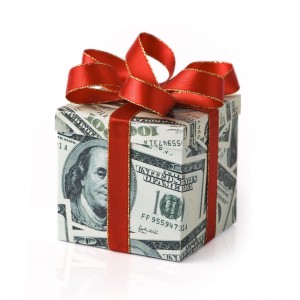 Tis the season for giving, and what better gift to give than a gift to last a lifetime in the form of down payment assistance for a close family member? Not everyone can afford to offer this kind of generosity, but according to the National Association of Realtors, 14% of all homebuyers and 24% of all first-time homebuyers receive a gift to help with the down payment.
If you are considering giving the gift of homeownership to a family member this year, there are some important steps you will want to take to make sure the transaction is as smooth as possible, and to avoid any unnecessary headaches along the way.
Limitations
Most types of home loans will allow gift contributions from family members only for a portion of the down payment, but many frown upon using gift funds to contribute to the entirety of the down payment. Lenders want to make sure the homeowners have some skin in the game and can show good faith to make future payments by laying down some hard-earned dollars upfront.
Conventional loans will typically require that some portion come from the homeowner that is not a gift, whereas more common first-time homebuyer programs, like an FHA loan, allow for 100% of the down payment to come from gift funds. Check with your lender on their various loan programs and the restrictions before selecting a home loan to move forward with.
Paperwork
In order for the gift to be accepted by the lender, you will need a letter with the details of the donation, including the exact amount, the property the money is being applied toward, and your relationship. You will also need to explicitly state that it is a gift that does not need to be refunded—and will want to include documentation showing the specifics of the transfer of money.
Tax Implications
Be sure to consider the tax implications on both sides when making this type of transaction. Under the Internal Revenue Service's annual gift tax exclusion, one person can give up to $14,000 to another in 2013 without requiring taxes be paid on the gift. Consider consulting a public accountant to discuss how it might impact your taxes, and be sure to consider other aspects of your finances before making a decision on how much to gift your relative.
If you're interested in purchasing, refinancing, or learning more about mortgage rates, simply fill out our Fast Response form. Our experienced mortgage professionals would love to sit down and discuss your needs. We look forward to hearing from you!
Tags: best time to buy a home, first option lending, first option mortgage, first time home buyer, Home Loan, home mortgage, house hunting, mortgage education, mortgage lending