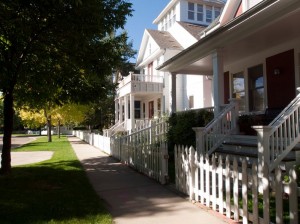 Denver, Colorado is one of the hottest housing markets right now, but not all neighborhoods in the Mile-High City fare the same in the real estate market. A few Denver metro neighborhoods have attracted national attention for their popularity and the amenities they offer. Redfin Research Center compiled all of the page views on real estate sites for specific neighborhoods in various cities, ranking which spots have become more popular in 2014. If you're looking to move to Denver, be sure to look at homes in the following "hot" neighborhoods.
1. City Park
Ranked the 9th hottest neighborhood throughout America, City Park is attracting homebuyers with its proximity—just 10 minutes from downtown Denver—and charm. Cute mid-century bungalows line most of the streets, offering spacious lawns for families or pet owners. Local businesses and restaurants also abound. Many Coloradans shop and dine in City Park, which is one of many reasons why so many people want to buy homes there.
2. Skyland
Located just to the north of City Park, Skyland residents have a similarly short commute into the center of Denver, though its homes are significantly less expensive. The latest median sales price for a Skyland house was just over $250k—much less than City Park's $394,500. Bordering the City Park with the Denver Zoo, it's becoming a great place for families. 37.2% of all Skyland households have children.
3. Wadsworth Corridor
Wadsworth Corridor is a little farther out, and so its homes tend to be a bit more affordable. Technically in Arvada, Colorado, Wadsworth Corridor was built upon agricultural land and in recent years has seen an uptick in urban development. City planners have focused on creating a vibrant neighborhood with an artistic scene supported by strong commerce.
4. North Kipling
North Kipling has attracted many new residents for a lower population density than is average for Denver: over 1,000 fewer residents per square mile. The neighborhood also has a slightly higher than average percentage of families, and nearly half of the people living there are resident Coloradans. If you're interested in settling somewhere and raising kids, North Kipling is one of the most popular options among these hot neighborhoods.
If you're interested in  purchasing, refinancing, or learning about our low down and no down payment financing options in Denver, simply fill out our Fast Response form or call our local branch at (303) 803-1900. Our experienced mortgage professionals would love to sit down and discuss your needs. We look forward to hearing from you!
Tags: 2014 Housing Trends, Colorado mortgage, Denver Mortgage, house hunting, housing market statistics, Real Estate