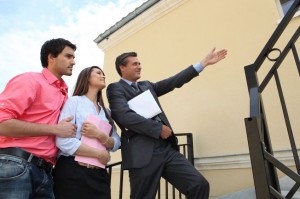 The road to the housing recovery has been a rocky one and in the wake of slow economic growth and gridlock in the House and Senate over economic policy, you might still be on the fence about jumping into the real estate market. However, after hitting what many estimate to be the "rock bottom" of the market in 2012, improving prospects for the housing industry suggest a rebound is underway as prices continue to pick up from coast to coast in 2013.
Here are four positive trends in the housing market that will help ease your uncertainty and give rise to renewed hope for the American dream.
1. Home Prices Are on the Rise
If you are a budget conscious buyer (and who isn't), now may be the time the buy! Economists and analysts across the industry are predicting, on average, a 3.1% increase in home values in 2013. This means a $200,000 home could cost you an extra $6,200 before years end.
2. Foreclosures Drop
There has been a significant drop in seriously delinquent mortgages. This has led to the ominous "shadow inventory" (the amount of unlisted bank-owned homes that are not yet on the market) tumbling 10.2% in 2012 from 2011. This should decline further as lenders are expected to modify more loans and approve more short sales in the year ahead.
3. Mortgage Interest Rates Remain Low
There will likely be a slight rise in interest rates, but they will remain close to the historic lows seen in 2012. The Federal Reserve has committed to leave rates untouched until the unemployment rate falls to 6.5% as long as inflation rates remain low (get current rates).
4. Rental Rates Remain High
The cost to rent averaged $1,044 in October 2012, up 3.7% from a year ago. The rising cost of renting vs. the cost of home ownership continues to make buying a more attractive option, and more families will undoubtedly jump into the market from the sidelines in 2013.
These are some of the key trends to keep an eye on in the coming year. Other important economic factors, such as improved job prospects and strengthening consumer confidence, are expected to play a role in the recovery and point to a promising outlook for 2013.
If you're planning to purchase, refinance, or learn more about mortgage rates, simply fill out our Fast Response form or give us a call at 888-644-1999.  Our experienced mortgage professionals would love to sit down and discuss your needs.
Tags: 2013 home prices, 2013 Housing Trends, best time to buy a home, first option mortgage, housing market statistics, interest rates 2013, mortgage interest rates, renting vs. buying