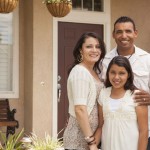 It's easy to feel lost when you consider how many home loan types are out there. But when most people talk about loans, they're usually referring to conventionally structured loans. Today we're answering some of the questions that arise when people start thinking about buying a home and which loan types they should consider. For a more bite-sized version and something that you can easily refer to and share with others, check out our latest infographic,
What You Need to Know About Conventional Loans
.
What is a conventional loan?
Conventional loans are those that aren't guaranteed or insured by any government agency. While they can have various term lengths, the most popular tend to be 30- and 15-year terms, with either a fixed or adjustable interest rate.
Who qualifies?
Seasoned homeowners are the perfect candidates for conventional loans. Lenders usually favor applicants who have a higher credit score and can afford a larger down payment. Conventional loans are also great for those who are looking to buy a vacation home or an investment property.
Why choose a conventional loan?
These types of loans usually have low interest rates and don't require a large down payment. Mortgage insurance is required if the down payment is less than 20 percent of the loan amount, but can be cancelled after two years if the home has 20 percent of its equity. Also, with conventional loans, gift funds can be applied toward a down payment.
When will I know if I'm ready to apply?
Potential homebuyers who are interested in a conventional loan should work on getting their finances in order. A FICO credit score of 620 or higher is usually needed to be approved, as well as meeting stringent income requirements. To give yourself a benchmark, it's helpful to note that the typical homebuyer contributes anywhere from 3 to 20 percent of the home's value as a down payment.
Where can I find the best conventional loan options?
With First Option Mortgage, of course! We know just what it takes to get you into the home of your dreams and have several programs to help you along the way. Here are a few to think about:
First Option Jumbo Plus

: This program provides innovative credit solutions for those looking for loan amounts up to $2 million with flexible guidelines.
First Option Investment

: This is the perfect program for qualified real estate investors. Highlights include maximum loan amounts of $2 million, required FICO scores as low as 620, and unlimited financed properties.
First Option Lock & Shop

: If you're afraid that interest rates will rise before you can buy your home, Lock & Shop can help. While you're building or shopping for the perfect home, you can lock in a rate without worrying about interest rates increasing. You can even float down to a lower interest rate should they decrease!
These are just a few questions that are sure to come up as you start thinking about buying a home. As always, we're more than happy to help guide you through the process and address any of your concerns. We're also full of resources that will help you purchase your dream home. Look around, connect with us, and let's get started!
Tags: conventional loans, Home Loan