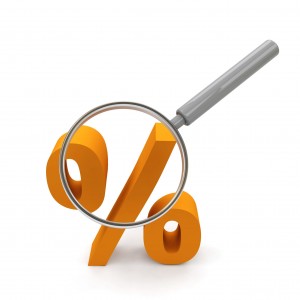 A mortgage rate lock is one of the more complicated and critical aspects of obtaining a home loan. Meant to cover the buyer while the loan application is being processed, a mortgage rate lock will guarantee the buyer an agreed upon interest rate at closing. It's also usually guaranteed by the lender for set time period that may be 10, 15, 30, 45 or even 60 days.
Borrowers benefit from locking in a rate because it protects them  from potential interest rate increases that may occur prior to closing. However, it also means that if interest rates fall after you have locked, you won't be able to take advantage of the new lower rate.
To take some of the mystery and stress out of locking in your rate, here are answers to three of the most common questions about mortgage interest rate locks.
When Should You Lock Your Rate?
Before you begin your home search, it is always wise to get pre-approval from your mortgage lender. For most borrowers, though, it does not make sense to lock in a mortgage rate until after you have a signed purchase agreement on a home.
If rates appear to be trending up, as they have been in recent weeks, it is best to lock as soon as possible. Talk with your lender to determine their average loan processing time, and give yourself a little padding for unforeseen delays.
What is a Float Down?
With a mortgage rate float down, the lender will commit to agreed upon loan terms, but unlike a standard rate lock, if market interest rates go down before closing, the borrower can lock in again at a lower rate. Since this is a riskier bet for the lender, there is typically a fee associated with a float-down.
If interest rates are relatively stable, a float down may cost more to secure than you will save, even if rates drop minutely before you close on your home. Be sure you understand the terms of the float down and the additional cost associated with it before you commit to a float down rather than a standard rate lock.
What Happens if My Rate Lock Expires?
Each lender will have individual policies on how they handle an expired rate lock. Most lenders will allow you to pay a daily or weekly extension fee to keep your current rate locked. These fees can add up and will be charged to the loan applicant regardless of why the loan did not close on time. This is why it is critical to make sure your paperwork and financial house is in order, you're working with a reputable lender, and you leave a little cushion on your timetable when you lock in your rate.
If you're interested in purchasing, refinancing, or learning more about mortgage rates, simply fill out our Fast Response form. Our experienced mortgage professionals would love to sit down and discuss your needs. We look forward to hearing from you!
Tags: first option lending, first option mortgage, first time home buyer, Home Loan, home mortgage, house hunting, mortgage education, mortgage interest rates