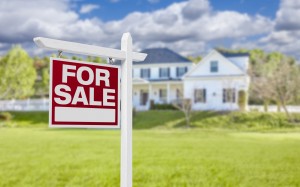 We're pretty happy 2017 is finally here. If you're a homeowner, you're probably happy about that as well. But what if you're in the market to buy a house? Will this be your year too?
We recently examined the highs and lows of the 2016 housing market to see where we're at now, and where we might be in the near future.
Analyzing the numbers
Without question, 2016 was a great year for the real estate market. It was a year of growth, both in home prices and appreciation. Home prices across the country grew by 4.8 percent last year, and are expected to continue at an above-average pace into 2017. Interest rates have also increased. They were at 3.54 percent last November, and they're at 4.13 percent as of January. Forecasting an improving economy and stronger job market ahead, the Federal Reserve raised interest rates a quarter percentage point.
Home prices are predicted to continue increasing throughout 2017, especially in premium neighborhoods, with a peak of about 5.3 percent over last year's figures. Rates on 30-year fixed mortgages could also climb as high as 4.6 percent by the end of 2017, according to the National Association of Realtors.
Yes, there was a lot of growth in 2016. It's continuing into this year, too. But the one thing that didn't grow was the overall supply of homes, and that trend also looks to be spilling over into 2017.
A lack of housing
Sales of existing homes reached nearly 5.5 million in 2016, the highest it's been in 10 years. That was up 5.9 percent from 2015's existing home sales and up 17.8 percent from new home sales. But that low, looming inventory of available houses may start driving up prices even higher than they are now.
Another factor in the low supply of houses is home flipping. The process of buying a fixer-upper, repairing it, and then selling it for a profit increased 20 percent from the fourth quarter of 2015 to the first quarter of 2016. In the second quarter, the total number of flipped homes rose another 14 percent, to 51,500 — a six-year high. This practice looks like it may continue through 2017 as well, though even fixer-uppers and homes listed as "as-is" are growing more expensive.
A taxing situation
The new Republican administration has proposed a tax reform on limiting itemized deductions, which means no longer being able to write off your mortgage interest on your taxes. This could hurt many homeowners and deter many buyers from taking the plunge. Backlash against this tax reform is already coming from the housing and real estate industries, so we'll have to wait and see what happens next.
Looking for a new house for your new year? First Option is always here to help. Get in touch with us anytime, or connect with us on Twitter and Facebook.
Tags: home value, market forecast, Real Estate