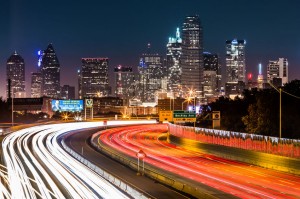 From hats to hair and trucks to baked potatoes, Texas more often than not lives up to its slogan: Everything's bigger in the Lone Star State. The phrase was first used to describe the state's geography, but it applies to just about everything these days, including the Texas housing market. In 2013, census figures showed a net gain of over one hundred thousand people. More people move to Texas than any other state, and though there are many reasons for living in Texas, affordable housing is a major motivation to move there.
If you're considering moving to and buying a home in Texas, you're not alone. Dallas and Austin were recently ranked among the top 10 housing markets for millennials, but those cities and others are attracting residents of every age.
Jobs, Jobs, Jobs, and Affordable Housing
The latest domestic migration figures found that 584,034 people moved to Texas in 2013—more than to any other state. The reason, most analysts agree, is employment opportunities. The largest Texas cities have more jobs than the average metropolitan area. Austin, in particular, has an unemployment rate of just 4%, significantly below the national statistic. Work is a primary motivational factor for relocating, as it always has been, but Texas has another captivating feature many other states lack: Affordable housing.
Despite the influx of new residents to the state, homes values haven't skyrocketed. They're increasing, especially in areas close to the city, but people moving to Dallas have a financial array of choices when buying a house. Because Texas is so large, it has the geographic space to expand almost indefinitely, so new housing developments keep cropping up a little farther out, keeping the American Dream of homeownership within reach of just about anyone.
So Long, Coastal States
Other states lack that luxury to expand and keep housing affordable. Cities like New York and San Francisco are geographically constrained, which means prices can only go up— so your income bracket has to proportionally increase to afford a home there. The same domestic migration statistics revealed that the largest number of new Texans came from California and Florida. While young people used to flock to the east and west coasts, they're now moving to the Heartland, where jobs—and homes—are more available. Residents of these coastal states find the Texas housing market refreshing, often because they're finally able to buy their first home and their dollar goes so much further here.
New Residents and Investors
Homebuyers in Texas aren't the only folks who recently accepted new job offers. According to the Fort Worth Star-Telegram, buyers from all over the world are investing in the Texas housing market, because it's seen as such a good investment. The Texas economy faired better than just about any other state in the nation during the Great Recession. The housing market crash that affected so many markets left cities like San Antonio and Dallas mostly unscathed. That stability is attractive to any investor, but the recent migration patterns have revealed that demand for housing will only increase—and Texas home values with it.
As other cities continue to recoup the losses they experienced during the recession, Texas homes are flourishing and seeing some of their best gains in appreciation yet. Metropolitan areas like Dallas have all become enticing markets to enter, being as potentially lucrative for regular homebuyers as for professional real estate investors. If you're looking to buy a home in Dallas, you're in good company, and you're likely to buy a house that's both a home and an investment.
If you're among the many new residents of Texas, looking to buy in Dallas, we at First Option want to help you find and finance your home. We're proud to be lenders in the Lone Star State and would to talk more with you about purchasing a home and mortgage rates. Simply fill out our Fast Response form to talk with one of our experienced mortgage professionals today!
Tags: 2014 Housing Trends, best time to buy a home, dallas mortgage, house hunting, housing market statistics, Real Estate, texas mortgage