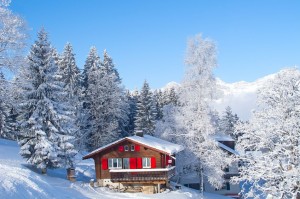 Here's a figure that may surprise you: 6% of all residential sales in the U.S. are for second or third homes. Many people consider second homes a luxury only the rich can afford, but more and more homeowners are investing in second homes—for personal use or income. How individuals go about this varies, but tapping into their home equity to buy a second home is among the wisest, financially. If you're looking to buy another residence, consider the process of refinancing your current home to do so.
Lender's Advice
You should always discuss your loan options with your lender before you make any decision. S/he will be able to direct you toward the least-expensive loan options after gathering all of the data. It's likely, though, your lender will recommend cashing out some or most of the equity you've built up in your current home to put toward your second. The reason is financial: Most interest rates are higher on secondary residences, so even if the second house you want costs significantly less than your current home, its interest rate will be about 3/8ths of a point higher, so you'll want to pay it off first.
Equity Is Equity
Especially if you've devoted years to paying off a good portion of your current mortgage, it can seem like a loss to transfer it all to a second home. You must remember, though, that equity is equity, even if it's spread across multiple residences. If you've built up enough equity to buy another home outright through a cash out refinance, that residence will likely increase in value immediately. You'll have as much (and potentially more) equity as you did; it just won't be centralized in your primary residence.
Tax Deduction
Though you won't have any problem with a second home, a third home isn't tax deductible and must be considered an investment property. This designation can result in higher interest rates too. If you use one or more of your homes as rental property, the income gained can offset this added cost, but it's still something to keep in mind when considering buying another home.
If you're interested in purchasing, refinancing, or learning more about mortgage rates for your primary residence or a second (or third) home, simply fill out our Fast Response form. Our experienced mortgage professionals would love to sit down and discuss your needs. We look forward to hearing from you!
Tags: best time to buy a home, interest rates 2013, mortgage education, mortgage interest rates, refinancing