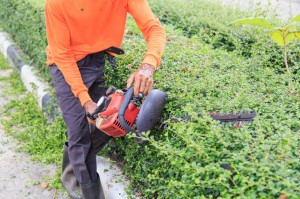 Before you buy a home, before you even look at home listings, you have to look at your finances to learn what kind of property you can afford. When renters become buyers, their instinct is to look at their rent and buy a home that will have a similar monthly mortgage payment. That's a fine place to start, and everyone should calculate their mortgage payment, but you need to be aware of the other costs involved in homeownership.
We at First Option believe a home is a great investment, but to invest in the right one, you need to know—really know—what you can afford. To help the process, we've assembled 10 of the least-expected financial commitments you make when you buy a home.
1. Legal Fees
Hopefully you're prepared for closing fees even before you apply for a mortgage. Zillow says homebuyers should expect to pay 2-5% of the home's purchase price in closing costs. That amount should factor into your budget, but you need to know: It may or may not include legal fees for using an attorney during the actual purchase and transfer of home ownership. That can be extra, and depending on your state laws, it can amount to a sizable chunk of cash.
Talk with your realtor about the typical legal fees in your area. You may be able to negotiate with the seller, who will sometimes assume these costs, but you need to financially prepare to undertake them yourself.
2.Maintenance
Everyone expects this cost, but few first-time homebuyers expect the size of it. When you buy a home, you assume full responsibility for it, which means every broken window pane, every burst pipe, and every chipping coat of paint suddenly becomes your financial burden. If you buy a fixer-upper, you'll learn quickly how much every home improvement project costs. If you buy a home in great condition, you'll learn gradually how much broken garbage disposals and tree trimmings add up.
Even though it's expected, maintenance tends to be the most shocking cost of owning a home. A general rule is setting aside 1% of the home's worth every year for these costs.
3. Catastrophic Insurance
If you live on the coast, along tornado alley, or in any earthquake-prone city, you may need to buy additional property insurance to protect your home from natural catastrophes like hurricanes and flooding. Depending on where you buy a home, this additional insurance can cost a lot, but it's a wise investment to protect your larger investment: your home.
4. Property Taxes
If you've budgeted carefully and survived your first year of homeownership with extra savings in the bank, you may be surprised come tax season, when property taxes are due. These will vary state-by-state, so you need to research and find out how much you should expect to pay in your city, to plan ahead for it and to see if you're eligible for any tax breaks, which some cities and states offer, depending on how you use and/or power your home.
5. Private Mortgage Insurance
Fortunately for first-time homebuyers, you don't have to save for a huge down payment when you buy a home. 20% used to be the old rule of thumb, but most buyers opt for low or no down payment mortgages, freeing up money for (some of these) other fees. The stipulation, though, is Private Mortgage Insurance (PMI), which you'll have to pay each month to insure your lender if you risk default.
The PMI can depend on a lot of factors, but you should expect to pay 0.5-1% of the total loan amount each year until you pay off at least 20% of the loan's principal.
6. HOA and Co-op Dues
A lot of people think Home Owner Associations and Co-operatives are only in exclusive neighborhoods and condominiums. In fact, they're in just about every market in the nation, which means there's a good chance the home you want to buy is part of an HOA or Co-op. These associations entail a lot of benefits, sometimes taking on certain maintenance responsibilities or maintaining standards to keep property values high. They also come with rules and, less expectedly, dues, which are often monthly. If you're considering a condo, townhouse, or single-family home, find out if it's in an HOA or Co-op—and find out how much you'll need to budget for those fees.
7. Heat, Water, and Garbage
Depending on where (and from whom) you rented your last home, there's a good chance your landlord covered one or all of the heat, water, and garbage bills. If so, paying for them yourself can be a shock. Water bills are a lot higher than people expect, especially in desert markets like Las Vegas. Everywhere, actually, will charge a pretty penny to supply you with gas in the winter and sanitation services. These add up quickly, and when you're paying for all of them, you start to notice how quickly heat vanishes in poorly insulated rooms, or how much water bills can increase with a leaky faucet. Most renters are used to paying for electricity, Internet, and cable, but if you aren't used to footing the bill for these other utilities, you need to expect them.
8. Landscaping
Having a yard is one of the main appeals of single-family homes, but it comes with a cost—literally. Even if you never decide to plant trees and flower beds, you have to water your lawn, and mow it, and treat it for disease or bugs or nutrients. "Landscaping" evokes the idea of a perfectly manicured lawn, with a fish pond and hibiscus trees, i.e. something ornate and expensive. Even if that yard isn't your dream, you'll have to pay for some lawn care, whether it's mowing services once a week in the summer, a lawnmower of your own, or plants and gravel for a drier climate.
9. DIY Projects
If you think you can save money by sidestepping professionals and doing repairs yourself, you may be surprised.
First of all, any DIY project carries the risk of damaging your pipes, wall, etc. even worse, which can rack up the bills further. If you don't have experience with electrical work, you shouldn't attempt it—a lot of home repairs can be downright dangerous. Laying the concrete foundation to a shed or patio might not carry the same risks, if it's uneven, the whole project may come to ruin in a few months or years.
For projects that you can do yourself, you should calculate the time and energy they require, and not just the cost of raw materials. Many people can retile the backsplash in their kitchens with enough research and trial-and-error, but it might take them 3-5 times longer than a professional would need. Most DIY projects also require specialty tools, which can cost a lot and may be useless after you're done.
10. Seasonal Expenses
Last but maybe not least, homeowners have pay for what might seem to be an optional fee: seasonal expenses. Of course there are decorations like Christmas lights and pumpkins that add some cheer and a few line items to your shopping bill, but there are other costs too. Most areas of the country require you to winterize your home in some way, and every spring you may need to purchase new sod for dead patches in your lawn, and every fall you have to deal with fallen leaves everywhere. They sound small, and compared to some of these other costs, they are, but they're still unexpected—things you should plan for when you financially plan to purchase a home.
Our team would love to help you buy a home. The money involved doesn't have to be daunting, and even with all of these unexpected costs there are affordable homes for just about everyone. We want to help you find the best home for your needs and budget. Contact us today about securing a pre-approved mortgage!
Tags: 2014 home prices, 2014 Housing Trends, house hunting, housing market statistics, Real Estate