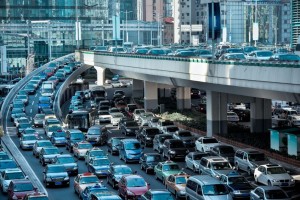 Ever dream about the dream commute? Is shaving 10, even 20 minutes out of your morning and afternoon drive at the center of your American Dream?
If asked what's the most miserable part of their day, most people don't think twice: It's consistently their drive between home and work. For decades the daily commute has been commiserated in comic strips, movies, and water cooler conversations. No one likes it, which a new study has definitively confirmed: the length of a commute directly relates to happiness levels. Traveling to work every day may be a fact of (almost) everyone's life, but you can choose how long yours lasts when you choose where to buy a home.
The Unhappy Commuter
Occasionally you'll meet people who love their commute, either because they bike or use the time to call relatives or just enjoy a chance to be alone. On the whole, though, the daily drive is so universally reviled that a study linking commute times to unhappiness seems like basic common sense. Swiss economists Frey and Stutzer, though, set out to prove it—and learn if the payoff is worth it. They found that "people with longer commuting time report systematically lower subjective well-being," and through calculations found that every hour of a commute should be compensated with a 40% salary increase.
Of course, everyone chooses to commute for various reasons. Frey and Stutzer learned that most people assume that a larger home in the suburbs or a bigger monthly paycheck will balance out the morning and afternoon traffic jams. More often than not, this doesn't happen. Homeowners can adapt to more (or less) space easier than they can acclimate to a commute—which given traffic conditions, car maintenance issues, and public transportation delays never fully becomes routine. That fourth bedroom or larger salary can be tantalizing, but it rarely compensates for the commute.
The New Walkable City
For decades, urban development was almost primarily marked by suburban sprawl. Cities kept expanding farther and farther out, so even the people who worked downtown followed the trend and moved with the development. Today, though, that trend is changing, even inverting—even in cities like Atlanta, Georgia, which all but defined suburban sprawl. Current urban developers are making concerted efforts at making their downtowns more livable and walkable, their streets more bikeable. Columbus, Ohio has in just a few years leapt up the ranks of the most bike friendly cities in America, and others are following suit. Less cars on the road makes more economic sense for cities, and it makes for happier citizens. Most urban-dwellers still have some commute, whether a 15-minute walk, half-hour ride on the bus, or quick drive through neighborhoods, but the closer they are to where they work, the happier they become.
The Real Estate Effect
Even if the link between happiness and commuting was intuitive, this study and reports like it have already had an effect on real estate. Some home listings now include commute times, understanding what a priority this has become for new homebuyers. Twenty years ago, square footage alone could have sold a house. Now, proximity is among the most desirable features, a trend that's likely to continue.
For some home buyers and sellers, a long commute will always be a reality. Houses listed close to their work, even townhomes and condos, may be financially out of reach for some homebuyers; they have to look for places in the suburbs. The effect of commute times won't reverse suburban sprawl, but it may motivate homebuyers to live near at least a few necessities—like grocery stores, community centers, and relatives, shortening the time in a car on weekends and evenings.
If you're interested purchasing a new home to cut down on a commute or refinancing to build up equity faster in your current house before selling, or if you just want to learn more about our mortgage rates, simply fill out our Fast Response form. Our experienced mortgage professionals would love to sit down and discuss your needs. We look forward to hearing from you!
Tags: 2014 Housing Trends, Everyday Living, first time home buyer, house hunting, housing market statistics, Real Estate, Selling Your Home