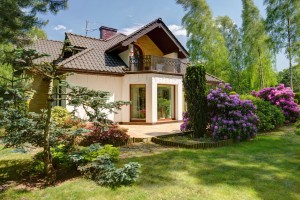 When you think of that period of time between March 20 and June 20, what springs to mind? Yep, you guessed it: It's the season for buying your new home!
There are many factors that affect the housing market, such as interest rates and the economy, yet few people realize the importance of which season it is. Spring is the perfect time for house hunting, and we're about to show you all the reasons why.
There's more inventory to choose from
Hope springs eternal in the warmer weather, and everyone can feel it in the air. More listings pop up between March and June, which is great if you're looking for certain home features or at a particular neighborhood. The only downside is, other homebuyers know it's the perfect house-hunting season, too.
It's a better time of year for families
A standard transaction takes 60 to 90 days to close, so if a family with children wants to be moved in before summer ends and a new school year begins, the home sale should happen by May or June at the very latest.
You'll have some extra cash
The holidays are long over, school supplies are on hiatus, and you may be getting a tasty tax return coming your way soon. You can apply that refund toward a down payment or closing costs, or use it to help pay for inspections, moving costs, and other expenses.
You can see things naturally
It's hard to gauge if a house is the house when it's covered in snow and the brown lawn and barren trees look like stage props from a horror film. In the sunny springtime, you'll get a more accurate depiction of the way the home and yard really look. Plus, the season's natural lighting makes it harder for a seller to conceal flaws and defects that staged indoor lighting might camouflage. You'll also be able to see all the colors of the flowers, bushes, and trees that may soon be yours.
Some springtime buyer's advice
Because spring is one of the busiest home-buying seasons of the year, you'll want to have as much accomplished as possible before officially placing an offer. Try to get pre-approved by a local lender first, and hire a local real estate agent who knows the area you want to move to. With these two requirements already taken care of, you'll be one step ahead of other buyers — actually, make that two steps ahead.
Are you thinking of buying a home soon? Reach out to us anytime for all of your mortgage and home-buying needs, or drop by our Twitter and Facebook pages to see what's new.
Tags: home buying, housing market, Real Estate