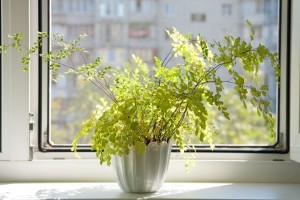 Winter is officially over, and as life begins to blossom outside, it's a great season to rejuvenate your home by spring cleaning. Whether you want to prepare your home for sale or plan to live in it for decades to come, committing yourself to clean, organize, and decorate it now will pay off in the long run. Of course everyone knows how to vacuum and tidy up a counter space; those are cleaning tasks you do throughout the year. Spring cleaning requires you to go a little deeper and tackle projects you rarely attempt. We've compiled some ideas to help the process.
1. Toss Anything Useless
There's a decorating proverb that goes, "Have nothing in your home that you do not know to be useful or believe to be beautiful." It's a nice adage, because it allows for individual tastes. Not everyone will need the same pieces of furniture or consider the same art appealing. Everyone, though, owns a lot of clutter that's neither useful nor beautiful. Use this season as an excuse to purge all of the furniture, possessions, and clothes that no longer serve a functional or aesthetic purpose.
2. Bring in Spring
It sounds like an Old Wives' Tale, but it's true: House plants help purify the air in a home. After you've cleared off clutter on shelves and around windows, invest in a few plants to decorate and enliven your home. Ferns, ivy, and succulents require little maintenance, but they add a great deal of beauty and reflect the energy of the vibrant season.
3. Tackle Stains
You mop and dust throughout the year, but you probably overlook that patch of carpet two shades darker than the rest. Take the time and spend a little extra money on heavy-duty products and stain removers to clean off grease stains on the walls, scuffs in the wood floors, and spills on the rug.
4. Change the Mood
You don't have to purchase a new set of furniture or repaint a room to adjust its mood. Small decorating changes can alter the feeling and sentiment of any space. Buy a new pillow with a unique pattern, or add a multicolored vase to an otherwise subdued shelf. If you want a seasonal change, look for floral designs and bright greens to capture the essence of spring in the room.
5. Let the Light in
With the long, dreary nights of winter over, daylight is increasing, no matter where you live. Deep clean your windows, removing any grime or fogginess will allow the sun to enter your rooms more clearly. Dust or wash any fixtures, too, that may have been ignored during the cold months, and replace any burnt bulbs. The life and energy of spring is here, and the way you clean, organize, and decorate can make it feel even stronger.
If you're interested in purchasing, refinancing, or learning more about mortgage rates, simply fill out our Fast Response form. Our experienced mortgage professionals would love to sit down and discuss your needs. We look forward to hearing from you!