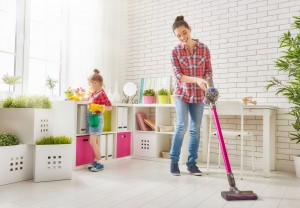 So you're selling your home? You picked a great time of year for it — spring is the ideal season to put your house on the market. But you'll need to be prepared. A big, expensive makeover isn't necessary. It'll take too long and you probably won't get your money back in the selling price. But a bout of spring-cleaning will do wonders before an open house, and it won't cost you a thing outside of a busy weekend. Here's our essential spring-cleaning checklist to ensure your home looks beautiful for buyers at any given time.
Wash and de-bug light fixtures
There's really nothing as gross as looking up and seeing a dirty light fixture filled with dead bugs and covered in cobwebs. You don't want a buyer seeing that, especially when it's so easy to clean. Simply unscrew each fixture, wash out the bugs inside, and give the exterior a good scrubbing with glass cleaner.
Clean heating vents and air ducts
This may seem like an unnecessary task when selling your home, but it really is quite important — both for impressing potential buyers as well as improving respiratory health. Make sure the fan is running while you're cleaning, scoop out and vacuum as much debris as you can, wipe the air registers clean, and replace filters (if they need it).
Clean or replace light switch plates
If you can remove smudges and fingerprints with bleach or glass cleaner, that's great. You're done. If not, you can pick up new switch plates at most department or hardware stores for a couple of bucks each. You could even get a little funky by using boldly colored switch plates as wall accents.
Scrub and scour the kitchen
The kitchen is usually the focal point (and potential deal-breaker) for most homebuyers. The better yours looks, the more likely your home will sell. Definitely clean every square inch of your kitchen, and if you have time to paint it, definitely paint it. There's no need to replace cabinets or drawers if you don't need to, but swapping out old, ugly handles and knobs for shiny new ones is always encouraged. And don't forget to clean the heck out of the stove and drip pans.
Remove one-third of your stuff
This may sound like an unnecessary step, but it will actually make your home look a lot bigger. Remove oversized or ugly furniture, take family photos and keepsakes off the walls and shelves, and definitely clean out your closets.   
Replace or remove weather stripping
Nothing looks quite as tacky as disintegrated weather stripping dangling down from a windowsill or open door. It's a cinch to replace, or you can simply remove it and let the new owner replace it. It's springtime, after all. The weather's great out.
Add more natural light
It's amazing what a well-lit room can do — especially when nature's doing the lighting. All you need to do is tie back your drapes or curtains to allow as much sunshine in as possible. Also, cut back any branches or bushes that are blocking windows.
Are you thinking of selling your house soon? Looking for a new place to call home? Reach out to us anytime for all of your mortgage and home-buying needs, or drop by our Twitter and Facebook pages to see what's new.
Tags: Cleaning Tips, home improvement, Home Selling Advice