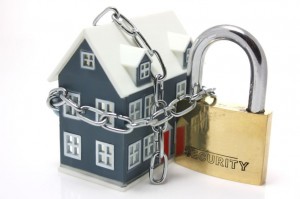 Tis the season for shopping for gifts, receiving packages, and traveling to visit friends and family. December is usually a month for joy and cheer for many of us, including criminals.  Statistics show that crime rate for theft rises dramatically this month.
Still, you can enjoy this wonderful time of year and protect your private information by following these six key tips for avoiding holiday theft:
1. Hide your valuables from observable sight
Shopping goes hand-in-hand with holiday season. Rushing from store to store, it's easy to leave bags and packages in the backseat of your car – and in plain sight of thieves. Lock holiday gifts and other valuables in your trunk, park in well-lit areas, and lock your doors.
2. Always leave a light on
People plan for longer vacation times during the holidays – particularly thieves. Having an empty house is the main objective for theft, but hiding the signs of vacancy can trick thieves into believing you're still home. Setting automatic timers, leaving decorations and lights on will provide the look of being home.
3. Be cautious of what you tell "friends" on social networks online
It's appealing to tell your friends on Twitter or Facebook where you're going during the holiday season, but not all of your followers or "friends" may be your friend. Adjust your privacy settings on all of your profiles so you can manage who is able to view your information or hold the travel announcements until after you return.
4. Don't let your mail overflow in your mailbox
A full mailbox means no one is checking it. If no one is checking it, no one is home. Have someone you trust – a friend or neighbor – retrieve and accumulate your mail.  You can also get in touch with your local post office to hold your mail while you're away.
5. Refrain from carrying an unnecessary quantity of credit cards
Keep credit cards and checks away from cash and put the numbers of all credit cards in a safe place in case they are lost or stolen. One way to achieve this is to make a copy of your credit cards on a photocopy machine.
6. Be sure your packages are safe
If possible have the packages delivered to your work. Ask that a package be held at the post office for pick up, consider asking for restricted delivery, or have an alternative neighbor or friend pick up your package. If possible, always get a tracking number!
At the end of the day, being extra cautious means taking the time to plan in advance. Stay merry now and well into 2013 by being aware this holiday season!
To learn more about how First Option can help you refinance your home, purchase a new home, or simply put you in good hands this holiday season, fill out our Fast Response form online or call us at 888-644-1999. We would love to hear from you!
Tags: christmas theft protection, first option lending, first option mortgage, holiday theft, mortgage broker