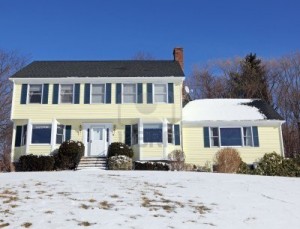 Waiting until the warm, summer months to get outside and start your house hunt? Most homebuyers do, and there are great opportunities for those who choose to buy during the cold winter months. Here are six reasons January & February are the best months to search for a home:
1. Social calendars are booked this time of year
Only the most motivated sellers will eschew holiday parties and vacation travel in favor of keeping their home in ready-to-show condition. If it's on the market in December and January, it's probably a matter of urgency for the seller, which is a boon for buyers who are willing to put the time in around the holidays. Related to that…
2. The least motivated sellers pull their homes off the market
Some sellers don't have reason to rush a sale, and will wait for spring when they'll have more buyers and competitive bids to get the price they want. Speaking of other home buyers…
3. Winter keeps the fair weather house hunters indoors
Many folks find winter a daunting time to move (especially in colder climates), and may not have the time or energy to do the legwork involved with buying a home – especially the process of moving their family and belongings. If you can motivate yourself to start the process now, you'll face fewer competitive bids for the most desirable homes. Plus…
4. Most families prefer to stay put through the end of the school year
Parents will forego moving until summer break so kids can close out the year with friends and avoid any differences in curriculum that may put their child too far ahead or behind their classmates. What many forget is fall enrollment for the most desirable schools is more competitive than a mid-year transfer. With fewer families changing homes…
5. Realtors have more time on their hands
That means they'll be focused on finding the right home for you, not you and dozens of other clients. Once you find the perfect home, you'll be able to move through the closing and moving process faster since inspectors, movers and others involved in the home buying and selling process will also have time on their hands. And the icing on the cake…
6. There are great sales on furniture and appliances
Retailers sell off excess inventory from the holidays in order to make room for the new models. You'll be able to furnish your new home at a discount, and make it feel even newer right away.
Whether you're looking to purchase, refinance, or learn more about mortgage rates, our experienced mortgage professionals would love to sit down and discuss your needs. Simply fill out our Fast Response form or give us a call at 888-644-1999.
Tags: 2013 home prices, 2013 house bidding war, best time to buy a home, house hunting, mortgage home purchase