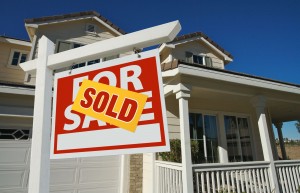 Reports of inventory shortages and double-digit price increases are cropping up in many markets across the United States. This is particularly prevalent in markets that were hit hardest during the housing downturn, as the market corrects an overcorrection that occurred in 2007-2008. California, Las Vegas, and Detroit have all been experiencing a hot housing market and with the homebuying season just beginning, the trend is expected to continue and expand to other areas of the United States.
While the housing market is favoring sellers in many areas, not all have felt the turnaround yet. So, how can you tell when the recovery has moved into your neighborhood?
For Sale Signs
Many people have been sitting on their investments waiting for prices to improve before listing their homes on the market, so if you are beginning to see more for sales signs dot your street, you can assume confidence is returning to other would-be sellers in your market.
Days on Market
The number of for sale signs isn't the only factor, the length of time they're up matters too. Generally speaking, in a balanced market, you can expect around a six-month supply of homes; with average days on the market around six weeks. If it is taking any longer than this, your neighborhood may still need some time to recover.
The Local Economy is Improving
Lower unemployment will naturally lead to more demand in the market. The national average fell to 7.5%  in February, with 5% being the average rate for a healthy economy. Even so, in California and Nevada, unemployment rates are hovering around 9.6%, but housing is rebounding.  So be sure you are paying attention to your local economy and not necessarily the state or nation as a whole.
Builders are Building
If you are seeing new home construction take place in and around your community, that means their confidence is returning and they are building to meet the demands of the market. In many places right now, builders are even struggling to keep up with the pace of sales.
If you are thinking about listing your home and moving up in the market, First Option can help! To learn how, simply fill out our Fast Response form or give us a call at 888-644-1999.  Our experienced mortgage professionals would love to sit down and discuss your needs. We look forward to hearing from you!
Tags: 2013 home prices, 2013 Housing Trends, Everyday Living, first option lending, first option mortgage, house hunting, housing market statistics, Mortgage, Real Estate, Selling Your Home