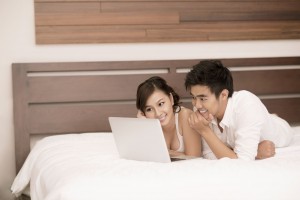 Generation Y is growing up and this younger more tech savvy generation is beginning to enter the housing market, accounting for an estimated 78 million potential buyers. And according to a recent survey by
Better Homes and Gardens
, three quarters have not been deterred from buying a home due to the housing downturn and believe owning a home is a key indicator of success. So how do you appeal to the generation Y buyer when you list and stage your home?
Get Wired
Generation Y-ers are ultra connected and wired properties with abundant office space for the telecommuting lifestyle, state of the art sound systems, and plenty of connectivity and automated functions are key for this demographic. They have grown up on technology and have come to expect it in everyday items around the home.
Be an Individual
The home needs to appeal to the generation Y need for individuality. Staging the home by accenting its unique features and incorporating a little personality will go a long way with this buyer. They value their individuality and want their home to reflect that value.
Use Online Resources to Advertise
Generation Y buyers are going to start their home search online. Having great photos that show off your property, virtual tours and utilizing social media to promote the listing will help get this buyer in the door to see more.
Entertaining Space
Generation Y-ers are less worried about having a home that will accommodate children and more concerned about a home that includes amenities and accent aspects of their lives. In a recent survey, generation Y-ers chose a whirlpool bath, swimming pool and game room as the top three amenities they would look for in a home.
Generation Y buyers are sophisticated and educated when it comes to the housing market. They saw what happened during the housing downturn and are determined to make a long-term investment that will pay off down the road. It is best not to underestimate this buyer and to be prepared when the selling season is underway to stage your home to appeal to this large demographic.
If you're planning to purchase, refinance, or learn more about mortgage rates, simply fill out our Fast Response form or give us a call at 888-644-1999.  Our experienced mortgage professionals would love to sit down and discuss your needs. We look forward to hearing from you!
Tags: 2013 Housing Trends, Everyday Living, first option lending, first option mortgage, first time home buyer, Selling Your Home