Selling a home in Indianapolis is tough right now. Real estate activity in all of
Indiana has slowed each month in 2014
, and September marked a cheerless milestone: For the 12th straight month, home sales were down when compared to a year before. Many factors have contributed to this slump, but the implications are the same for anyone in Indianapolis selling their home. If your listing has been on the market for months, consider one of these five alternatives to selling.
1. Rent it out
It's a classic solution for a reason: Renting works, something just about any real estate investor can attest to. If you need to move out of Indianapolis, keeping your home on the market isn't feasible, but renting it out as a second home can be. The money you earn from a renter can (and should) cover your current mortgage on a home and its upkeep expenses. There's also a chance you'll profit off the rent. At the very least, renting your home should financially sustain you until the buyer demand in Indianapolis increases.
2. Try again in 6 months
This might seem too obvious, but it can actually be a smart financial decision. Good news came out of the latest Indianapolis housing market report too: Home values (and sale prices) are increasing, even if the city's seeing fewer pending and closed home sales. The average year-to-date sale price in Marion County jumped 6.4%. This means houses are appreciating, at a remarkably high rate, despite the dip in purchases.
It also means your Indianapolis home remains an investment, so the longer you wait to sell, (technically) the better. If you're able to wait until buyer demand increases, consider taking your home off the market for awhile. When you try again, you'll feel reinvigorated to stage and market your home well, and you'll probably be able to ask more on the sale price.
3. Make it a "bed & breakfast"
Not a real bed & breakfast, but homeowners should look in to renting out one of their bedrooms, or turning an area into an apartment space. Sites like Airbnb enable homeowners to become temporary landlords, meaning you can rent out a room to people passing through Indianapolis once or every day of the month. With Colts season beginning, the city is about to see an influx of sports fans, many of whom only need to spend one night there. If you have a room, basement, or apartment space you could use to make some extra income while you're waiting to sell. With so many Indianapolis attractions, you may see an interest in lodgers even after football season ends.
4. Begin a home improvement hobby
The Indianapolis housing market may be in a bit of a slump, but homes in the city are still selling, especially the ones that catch buyers' eyes. If your home has been on the market for a long time, it may not hold the allure it needs to in this kind of real estate season. Think about what your home's most and least attractive qualities are, and devote your spare time to beautifying it. DIY home improvement projects usually cost more time than money, which you'll have if you're waiting to sell. Anyone with a few tools (and YouTube videos) can landscape, sand floors, and install new cabinet handles. Turning these touchups into a hobby can make them seem like less work, and can benefit you in your next home, once your current listing catches the attention of a buyer.
5. Revisit your selling strategy
We've written before about how to sell your Indianapolis home in a slow market, and every one of those six points remains true—maybe truer now, given the continued slump. If renting out your home or a portion of it isn't possible, and if you can't stand to pull your home off the market for awhile, you can adjust your selling strategy to keep your home as attractive to buyers as possible. Even if demand in Indianapolis remains low, overall, the market is constantly changing, with new buyers appearing every day. Every one of them has specific needs, whether it's size, price, location, or all of the above. By keeping your home on the market, you can be ready for the buyers who want and need your home. By keeping your selling strategy fresh, you can ensure you're ready for them.\
If you've been trying to sell a home in Indianapolis and would like to learn more about mortgage rates, simply fill out our Fast Response form or call our local branch at (317) 713-9500. Our experienced mortgage professionals would love to sit down and discuss your needs. We look forward to hearing from you!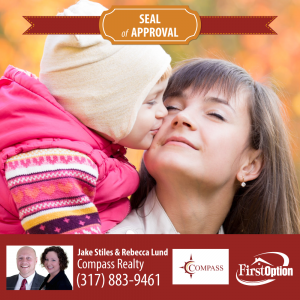 We also work with the best realtors in the area who are happy to help you sell your home. Call Jake Stiles & Rebecca Lund of Compass Realty today!
Tags: 2014 Housing Trends, housing market statistics, Real Estate, Selling Your Home