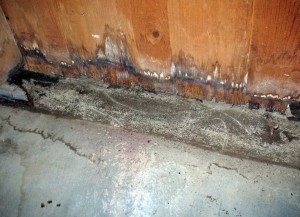 Selling a home is tricky business. You want to make your home as presentable as possible—which sometimes means using a rug to hide a stain, or keeping the door that always sticks locked. Any serious seller will hire an inspector to make sure the structural and electrical parts of your home are sound. They might not notice every dripping faucet, but learning the quirks is an understood part of new homeownership.
A few things though, should be disclosed from the start, not just for honesty's sake, but because the law requires them. If you fail to disclose any of the following items, your contract of sale might not be binding, and you might even be at risk of a lawsuit.
1. Repairs
It's a broad category, because it includes everything. Whether you've sealed a crack in your foundation or replaced a hole in your drywall, you need to let any buyer know. This level of full disclosure doesn't just protect you legally: it shows any potential buyer that you have nothing to hide.
2. Termites
Any history of termites must be disclosed, even if they've been gone for years. Because termites are such a serious problem and can deter many buyers, you may want to hire a pest inspector as soon as you put your home on the market, so you can show them a clean report.
3. Water Damage and Mold
This should come up in a home inspection, but sometimes it's missed if you've painted over a damaged area. That doesn't mean you're in the clear, though; it's actually why water damage is among the most common of disclosure-lawsuits. If your basement has ever flooded or roof leaked, you need to make this known.
4. Lead
Federal law sets disclosure requirements for any home built before 1978. Because lead-based paint was so common, any seller of an older home has to disclose whether or not lead paint is in the home, provide a "Protect Your Family from Lead in Your Home" pamphlet from the Environmental Protection Agency, and allow buyers a 10-day window to test for lead.
5. Nefarious History
If your home has an infamous past, you're required to disclose anything and everything about it that could affect resale value. Murders, of course, are commonly known among disclosure lawsuits, but most ordinances require sellers to tell buyers of any death that occurred in the home, even natural ones. Other acts of crime should also be revealed—as should any paranormal history. In short: If it sounds like something you may need to disclose, you should.
If you're interested in purchasing, refinancing, or learning more about mortgage rates, simply fill out our Fast Response form. Our experienced mortgage professionals would love to sit down and discuss your needs. We look forward to hearing from you!
Tags: 2014 Housing Trends, first time home buyer, house hunting, housing market statistics, Real Estate, Selling Your Home