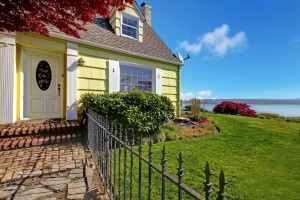 You want to sell your home fast. No, faster than fast! The longer it stays on the market, the more potential buyers will wonder if something is wrong with the property or location. You might even have to lower the listing price over time, which can prove to be disappointing and stressful. Avoid the plodding and the pain, apply these tips for selling your home faster than the competition.
1. Hire And Strategize With An A+ Realtor
Consider interviewing multiple seller agents (up to three) to gauge a general experience in your area. At First Option, we have partnered with real estate agents across the country that we trust. We have vetted these agents for you, and can put you in contact with them.
Hire a realtor that has the best action plan on how to sell your home. In the beginning, a solid action plan will sound like a good idea for all of a realtor's clients. Ask specifically what power moves you and the realtor can accomplish to sell your home quickly. You should discuss:
the best timing for putting your home on the market.
area real estate trends.
how long the home is expected to be on the market.
any challenges that you should be aware of.
Also, tell your realtor you would like a comparables report sent to you monthly so you can keep track of the competition and pricing in your neighborhood.
2. Have an Online Marketing Plan
Related to the above, all of the seller agents you interview will likely explain that your home will be added to A Multiple Listing Service (MLS), featured in the local newspaper, and host monthly open houses. This is the traditional marketing that goes into selling a home. The realtor you hire must also have a firm understanding of online marketing for real estate. Ideally, you should also ask for a marketing guru to provide samples, also.
Why is online marketing important in your home sale? The National Realtor Association with Google released a study on how homebuyers are utilizing digital media to source potential homes for viewing. They found 99 percent of homebuyers searched the Web for homes.
If your home is added to an MLS, it is automatically uploaded to Zillow and Trulia listings. Ensure that your realtor has answers to the following questions:
Will they take quality photos of the home? These should not be taken with a cell phone camera or be badly lit. Ask the realtor to show you past images of homes they sold. You can also suggest that the realtor hires a professional photographer rather than take the photos themselves. Remember, the images are what entice potential buyers to set up an in-person viewing.

How many images will be posted? Discuss the optimal number of images for your listing. Ideally, you will have more than six images showcasing both the inside and outside of the home.

Is it beneficial or harmful to post a video tour of the home? A video is generally more beneficial for larger homes.

How will the agent utilize social media to market the home? Will your home be promoted only on the broker's real estate site, or also on the agent's professional social networks? (Your agent should be professionally active on at least one social network.)

How can you promote the home on social media?
Once you have an online marketing plan and apply the tips below to your home, have the photos taken and start posting things like open houses and announcements on social media.
3. Money Talks
Pricing is the biggest driver in any market, real estate included. Your realtor is going to push this concept, and rightly so. You may feel your home is worth more than what the realtor suggests. You may have even paid more for it than the list price your realtor suggests. Listen to your realtor's price suggestion and the reasoning behind it, and go with it. Generally, if your home is priced right, it should sell within 30 to 60 days.
4. It's Nothing Personal
Off the bat your realtor should suggest you remove personal items from counter tops, bookshelves and the like, and to keep the home clean. You want buyers to imagine their family in the home, not your own. Anything you can pack up, do so. The less clutter, the better. See if a friend or family member has extra storage you can utilize. With more space, your home will appear larger and look better in photos. Get rid of the junk in the garage and basement. Remove extra kitchen appliances and cookware. Pack up half of each of your closets. This is your way of showing off how much storage space the home features.
5. Give Your Home A DIY Facelift
As part of your selling strategy with your realtor, cover what areas of the home need improvement. A lot of projects you can do yourself. For the interior, consider:
Fresh paint in neutral colors.
New window treatments.
Address any minor repairs, like doors that stick or leaky faucets.
Remove any fixtures or features that date the home, like the built-in clock radio in the kitchen or laminate countertops.
Get rid of any furniture you don't plan on keeping to increase space.
Apply minor kitchen upgrades since this is the most scrutinized room when it comes to home buying. This could mean anything from upgrading the cabinet handles to refacing cabinets.
For the exterior:
Regular lawn maintenance is key. It may be worthwhile to hire lawn professionals to come by on a weekly or bi-weekly basis to keep appearances fresh and clean.
Add new mulch or flowers.
Change out the mailbox with a newer model.
Upgrade your house numbers with a modern typography.
Pressure wash the driveway, walkways and deck for a newer look.
Repair any damaged outside features, like broken shutters or fencing.
Attend open houses for additional DIY home improvement ideas and to keep an eye on area competition.
Whether you have a general question or are looking to purchase a home, contact First Option today.
Tags: home improvement, home sale tips, How to Sell Your Home, real estate marketing, Selling Tips, Selling Your Home