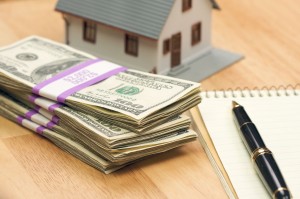 You're on your way toward buying your first home. Maybe you've even taken a summer staycation. But you're still looking for ways to scrape together more cash to buy that new home. If you're at a loss for more things to do, we've got a handy guide to help you maximize every penny in the quest for a new home.
Budget, budget, budget
Step number one when thinking about buying a new home should always be making a budget. It may not sound like a lot of fun, but the best way to figure out where your money is going and identify places where you can save is to make a budget. There are plenty of tools and guides out there, and websites like You Need A Budget and Mint can be very helpful in making the process easier.
Cut back on eating out
This one's pretty simple. There's plenty of evidence that cutting back on eating out can save you money, but this rule becomes even more important when you're thinking about feeding a whole family. Restaurant bills for everyone can become a pretty substantial money sink. It might not seem like you're saving much at first, but that money starts to add up. We have a list of budget-friendly meals to get you started.
Switch to cash
While this method can make you lose a bit in credit card rewards (if you're using them), using a cash envelope system can help rein in overspending at places like the grocery store and at restaurants. But the benefits can also be pretty great. If you're not overspending your envelope budget, that money can go toward saving for your home.
Buy used instead of new
While buying everything brand-new is really nice, remember that many people often donate things that are like new to secondhand stores, and you can pick up what you need for a substantial discount. Whenever you're going to make a new purchase, ask yourself: Do I absolutely need this in brand-new condition? If not, check out a thrift store, or peruse the used section on Amazon.
Look for hidden money
No, this doesn't mean money you forgot about in coat pockets. But look around your home. Are there unused objects that you can sell to help get you closer to your goal? A garage sale can sometimes go a long way in getting you closer to the new home of your dreams.
We hope these tips bring you closer to purchasing the home of your dreams! If you've gathered together the funds and are ready to start the next phase of your home-buying journey, contact us, and we'll get you started down the road. You can also share any budget-friendly ideas you have with us on Twitter or Facebook!
Tags: Buying a Home, home ownership, homeowner tips, Mortgage, mortgage process, Real Estate, save to buy a home