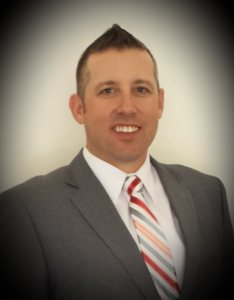 We are proud of every First Option employee. Together, we change lives every day. Because of the pride we have in our team members, we want to share a little more about them with you. In this employee spotlight series, one member from each of our nine branches will be highlighted.
We're starting with a Las Vegas team member, Robert Ledbetter. We asked Robert a few questions so we can better get to know him.
Where are you from?
Bishop, California
Just for fun… how tall are you, Robert?
5'8″
How many years have you worked at First Option?
One
What is your favorite animal?
The lion
Why the lion?
Have you not watched The Lion King?
Fair answer. What was your favorite TV show growing up?
The A-Team. They were ex-Army Rangers, and that show is probably one of the reasons that I became a Ranger.
Wow, thank you for your service. What do you like most about Las Vegas?
Cheap home prices, no state taxes and the ease of getting to amazing locations such as Utah, Colorado and California.
Who is your biggest hero?
General Patton
How did you end up with First Option?
I've worked in the mortgage business in the past and knew I would be back. Then I refinanced with First Option and was very impressed with the way they handled my loan. I knew I wanted to be part of an environment like that.
What do you love most about your job?
The fact that teamwork and care for the client are most important, above everything else.
What is your greatest memory at First Option so far?
Flying into the corporate office in Atlanta, Georgia for initial training and immediately being treated as part of the family. Everyone was genuinely interested in my story and congratulated me on my successes.
Give us one parting piece of advice for homebuyers in Las Vegas.
Do your due diligence when getting pre-approved for a home loan. Not all of them carry weight and many loan officers disregard their client's needs and don't look out for their best interests. Lastly, most banks have a high turn-down ratio, so don't get discouraged – a true professional will happily work hard to get you into your dream home.
Tags: Employee Spotlight