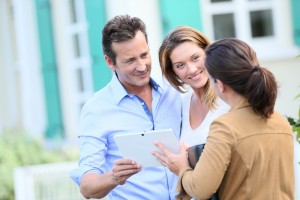 You should always go into a business arrangement knowing all of the information. Shopping for a personal mortgage should be no exception. Knowing everything up-front will give you a better idea of an affordable price and the neighborhoods you can explore. It also tells sellers that you are a serious buyer with the right tools in your hands to negotiate an offer.
Similar to looking for the perfect home, finding the perfect lender can involve a little bit of shopping, and a little bit of beating around the bush before you settle on the one you feel most comfortable with.
While kicking tires, make sure you ask the proper questions to get the most out of your shopping experience!
Narrow down your search with these questions and find the right loan officer for the job!
1.  Which mortgage options are best for me and why?
Your personal experience should come with a personalized mortgage. Are you a first-time homebuyer? Are you moving from a home or even out of state? What's your financial situation, or have you ever been in the military? These are all questions that impact the type of loan you could qualify for. It's important that your loan officer takes the time to get to know you. If they come out of the gate offering promises or technical rates, it might not be a good fit.
2.  Are you licensed to mortgage where I'm located?
This may seem like a no-brainer, but Mortgage rules differ from state to state and the lender must be licensed to offer a mortgage in your state. Even the largest lenders don't have licenses everywhere. It's particularly important to ask your lender if you are getting a quote from smaller or online lenders.
3.  What are your rates, terms, fees and closing costs?
Fees vary from lender to lender, and may include application fees, loan origination fees, points, appraisal fees, inspection fees, attorney's fees and more. It is important that you have a grand total to tally up, comparing all the mortgage quotes received as you shop around.
4.  How long will the process take?
Your loan officer should be able to give you a fair estimate of how long it will take to fund the loan. Providing you have handed over all of the needed documentation ahead of time, processing will typically take anywhere from 7-10 days. If the lender expresses a wait time much longer, you may not be receiving the customer service you deserve.
5.  Is there a prepayment penalty on the loan?
Prepayment penalties may not seem important at the start of your mortgage, but years down the line it could be a costly factor to overlook. If you sell your home or refinance into another mortgage you'll essentially be paying off your mortgage, incurring some of these penalties. Ask about the terms and differences between soft and hard penalties, or if you'll be penalized if you ever decide to sell your home.
6.  Will my loan be sold?
It is not uncommon for a loan to be sold to another financial institution or investor. Be sure to find out who you will be making payment to—whether it will be directly to the lender you're working for. If not, find out the agency you will be making payments to.
7.  What will closing look like?
If a potential lender looks good, you'll want to start narrowing down all the specifics necessary to close on your home purchase. To effectively close on a home, you'll need to coordinate with the seller and your lender. Find out how long it will take for the lender to approve the application and provide funding. Also ask about any potential hurdles that could possibly hold up a closing. Without effective coordination, you could see a delay in closing time, which might mean increased rates, rescheduling with movers, or even losing your bid on a home!
The right mortgage company should make you feel comfortable doing business with them, with a loan officer that works in your best interest. Find that, you'll find a great deal, and a great shopping experience to begin your home search!
Fill out a Fast Response form if you're interested in speaking with one of our friendly, neighborhood mortgage specialists. If you'd like more information about the loans we offer, or even just the mortgage process, contact us on Facebook or Twitter! Our experienced mortgage professionals would love to sit down and discuss your needs. We look forward to hearing from you!