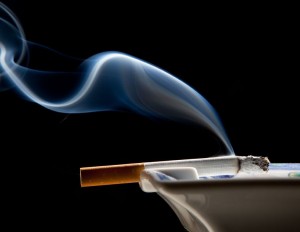 Everyone knows smoking affects your health, and anyone who's tried to sell the home of a smoker knows it affects real estate value too. Houses that are structurally sound, modernized, and in a good neighborhood can sit on the market for months, sometimes years, if they smell like smoke. Buyers assume the smell will last forever—in part because most cheap motels never learned the trick for removal. If you're selling or buying the home of a smoker, you don't have to take a huge loss, or just live with it. You can remove the smell, permanently.
1. Open Windows
Begin every step of the cleaning process by opening your windows. All odors come from physical particles, so even powerful smells will dissipate over time with fresh air circulation, carrying them away. Unless it's bitter cold, you should open your windows as often and long as possible to expedite the smell removal process.
2. Clean Fabrics
Curtains, upholstery, and duvet covers absorb the smell of smoke quickly, and they can hold onto it for years. Remove everything made of fabric from your home, including rugs, and take it all to an outside launderer for a deep clean. Once the smell is removed, store them with friend or in a storage unit until the rest of the smell-removal process is complete.
After this, steam-clean your window treatments, and survey your carpet. If the smell and smoke stains are minor, you may be able to shampoo it yourself, or choose a professional cleaner. If not, you may need to replace the carpeting, at least in rooms that absorbed the most smoke.
Wait to treat upholstered furniture until later in the process.
3. Bleach Surfaces
Clean all surfaces—linoleum, tile, and, if it won't damage the grain, wood—with a mixture of water and bleach. Do the same to the walls, ceilings, and even outdoor areas like decks and porches if people smoked there. Depending on the size of the home, this can require a tremendous amount of time and energy, but clean thoroughly to maximize the effect. This can be a great time to go ahead and enhance your hardwood floors, which will also help remove the smell of smoke.
Clean plastic, metal, and wooden furniture with a spray bottle of distilled white vinegar and a rag. (After this, rinse delicate woods with water and dry them.) The smell of vinegar will eventually disappear on its own, but if it bothers you, add a few drops of essence of lavender or citrus once you've cleaned all the surfaces. Dust and/or wash anything you've removed from shelves in this process.
Treat upholstered furniture and your cleaned carpets with Odoban—which professional renovators use in homes damaged by fires. Baking soda can work too: sprinkle it on the surfaces and vacuum it up a few days later.
4. Repaint Walls
There's really no getting around this if anyone has smoked indoors. Smoke discolors the walls, and the smell of nicotine remains in the paint for decades. Treat every wall with a deodorizing primer, and only then apply one or two coats of latex paint. You may need to treat and repaint the deck or other wooden furniture as well.
5. Purify the Air
Replace air filters, buy a high-grade air purifier, and put a bowl of activated charcoal in every room of your home. If you don't already own houseplants, pick some up from your local nursery. These 15 species are especially effective at naturally purifying the air in your home.
6. Routinely Clean
Bring your fabrics and linens back inside, and create a schedule to clean and deodorize regularly. Even after all of these steps, keep your windows open as much as possible, hours every day if possible. Add distilled white vinegar to every load of laundry you do, continue cleaning surfaces with vinegar and essential oils, and dust and vacuum weekly. Traces of the smell might persist after these steps, but you'll reduce it greatly and remove it permanently by routinely aerating and cleaning your home.
If you're interested in purchasing, refinancing, or learning more about mortgage rates, simply fill out our Fast Response form. Our experienced mortgage professionals would love to sit down and discuss your needs. We look forward to hearing from you!
Tags: Everyday Living, housing market statistics, Real Estate, Selling Your Home