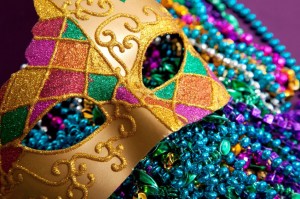 Fat Tuesday is upon us, but that doesn't mean you're out of time to plan for a great Mardi Gras party. If you've planned festivities for your friends or family, you can make them all the more festive with the right elements and recipes. No party is complete without plenty of beads and masks, but the food and drinks will make the event really unique. Consider making some of these Mardi Gras foods and libations to make your Fat Tuesday a memorable one.
Sazerac Recipe
Known as the official cocktail of New Orleans, this drink is a great complement to the standard beer and wine offerings that most Mardi Gras parties have.
Ingredients:
Rye whiskey (3 oz)

Simple syrup (0.75 oz) or a sugar cube
Splash of bitters
Absinthe or absinthe substitute
Lemon twist
If possible, chill glasses in the freezer or in standing ice beforehand. In a separate glass, muddle the sugar and bitters, and then add the rye whiskey, mixing thoroughly. Add a bit of absinthe to the chilled glass and swirl it around, so it fully coats the inside. Pour in the rye whiskey mixture, press the lemon rind around the lip of the glass and squeeze over the drink—then serve!
Main Course Recipes
Perhaps more than any other city in America, New Orleans is infamous for its classic foods. Gumbo, jambalaya, and dirty rice are served in just about any restaurant in the city, and all great fares to serve for a Mardi Gras party. If you know a great New Orleans recipe by heart, serve one of them. If not, consider one of these dishes:
King Cake Recipe
It's the official dessert of the season, and it's usually sold in grocery stores throughout America. If you're short on time, no one will look down on you for picking one up. If you want to try to bake a king cake from scratch, though, consider this recipe.
Ingredients:
1 box of yellow cake mix and its ingredients (3 eggs, 1/3 cup sour cream, 1/3 cup vegetable oil, 2/3 cup water)

Icing
1 plastic Mardi Gras cake baby
Green, gold, and purple sugar
Filling ingredients: 1/2 cup brown sugar, 3 Tbsp all-purpose flour, 1/2 cup chopped pecans, 1.5 tsp cinnamon
Prepare the filling and cake batter separately in two bowls; the filling just requires simple mixing. Pour half of the batter into a well-greased Bundt pan, then sprinkle the filling over it and drop in the baby, away from the edges. Cover with the rest of the batter and bake for 30-35 minutes at 350º. After cooling for 15 minutes, remove the cake from the pan, and once it cools completely, add icing and the colored sugar. Remember that whoever gets a slice with the baby has to provide the cake next year!
If you're interested in purchasing, refinancing, or learning more about mortgage rates, simply fill out our Fast Response form. Our experienced mortgage professionals would love to sit down and discuss your needs. We look forward to hearing from you!
Tags: Everyday Living