Whether you'r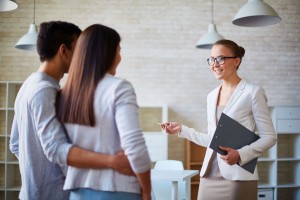 e buying or selling a home, you'll benefit greatly from having the right real estate agent on your side. But keep in mind: You're the boss in this scenario, so you'll want to interview your next agent like an employer would when considering a new hire.
We've recently shown you how the housing market looks for 2017, now get ready for our list of the best questions to ask your new real estate agent before you let them help you make one of the biggest financial decisions of your life.
What sort of commission do you charge?
If you're buying a home, you shouldn't pay any sort of commission to your agent — that's for the seller to handle. But you'll still have to pay closing costs.
If you're selling your home, you can expect to pay a real estate commission of about 5 to 6 percent of the home's price — that works out with 2 to 3 percent going to your agent, and 2 to 3 percent for the seller's agent.
Is being an agent your full-time job?
You're not prying into their personal life by asking this, you simply want to find out what their priorities are. Plus, a full-time agent is usually the most up to date on the state of the housing market, as well as any changes to the law.
How do you plan to market my home?
This is a very important question to ask, because if your agent doesn't know the most effective ways to market your home, it's not going to sell. Check out some of the agent's past listings to make sure they have an online presence. This is vital, because most buyers shop for homes through online listings.
What other services will you charge me for?
Your agent should always handle price negotiations and the escrow, but sometimes other issues aren't discussed until the transaction is complete, like contingencies and cancellation fees. Just make sure and ask during your interview process.
Can I see some reviews from past sales?
Like any business or product, your real estate agent should have reviews and, hopefully, glowing endorsements from past clients. Be cautious of a few handpicked testimonials from overly happy clients. You should be able to find authentic opinions and reviews on real estate websites like Zillow.
Are you familiar with my target neighborhoods?
If you're buying, the agent you choose should have some recent sales in the areas you're interested in. They'll know the local market, where to look, and who to talk to. If you're selling, your agent should also be experienced enough with your neighborhood to promote local features and benefits (like schools, parks, etc.) to potential buyers.
Another great question to ask — whether you're buying or selling — is if your target neighborhood is growing or declining. Your real estate agent should have extensive knowledge of the area, and be familiar with issues like nearby foreclosures, future developments, etc.
How long does it usually take for your listings to sell?
Nothing is for certain when selling, but it's nice to know a ballpark average of how long your home will be on the market. Start by going online and finding your state's Real Estate Board, then compare your potential agent's average to the board's average.
Are you looking for a new home? Considering selling yours? First Options is always here to help, or connect with us on Twitter and Facebook.
Tags: home buying, home selling, real estate agents