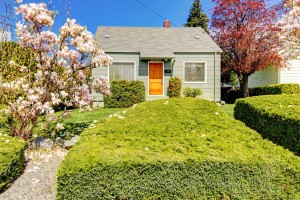 Tiny homes are one of the hottest trends in housing right now. And for many homebuyers, they make a lot of sense. We want people to make the smartest financial decisions available to them, and that includes buying a small home. Below is our guide to the ups and downs of owning a tiny home.
Pro and con: They're tiny
Part of the appeal for many people is that tiny homes have a small environmental footprint. They don't take up a lot of space, use fewer materials, and therefore don't require as large a lot as a potential building site.

However, the smallness of the home can be a downside as well. While some people are excited by the idea of making it work in a smaller space, others can feel claustrophobic and restricted. It can also be difficult to raise a family in a tiny home, as the restrictive quarters can lend to a cramped feeling. This Q&A with one tiny home owner can provide more insight about what it's like to live tiny.
Pro: They're affordable
For many potential homeowners, the idea of buying a house might seem like an impossible dream. Tiny homes range from $20,000 to $75,000, which may be a more affordable opportunity. But it's important to remember that if you're even considering purchasing a home in that range, you might also consider a reasonable mortgage.
Pro: They're customizable
If you're building it from scratch, the sky's the limit with a tiny home. It's a DIYer's dream. If you're not very handy, many companies have pre-built models you can purchase and make your own. They're also flexible. If you already own a home, you could build a tiny one on your property to serve as a guest house, or outfit one to serve as a vacation home on a small area of land in a destination of your choosing.
Con: They're limiting
As blogger Shannon Lee points out, when you decide to make the switch to a tiny home, you lose a lot of space to do certain activities. If watching TV before bed is part of your nightly routine, that might not be possible given your new quarters.
The key to making it work is to have clear boundaries and activities you're not willing to compromise on — and make sure your home meets those requirements. If having a fully-featured kitchen is what you're looking for, make sure you design the home accordingly.

If you're looking for something a bit more spacious, contact First Option for more information about financing a new home. And if you have more questions about tiny homes, ask us on Twitter or Facebook!
Tags: buying a tiny home, house hunting, house hunting advice, Real Estate Tips, small houses, tiny home