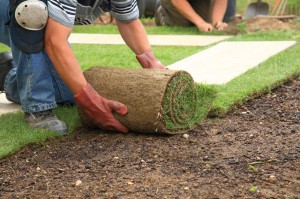 Spring is energizing. New life, vibrant colors, and that first, refreshing, burst of warm air make the whole season electric. Whether coincidentally or not, spring affects everything from young love to real estate agents—who tend to be the most charged after slow winter months. For homeowners looking to sell, this is great news, and it often translates into making more on a sale than you could in the fall or winter. We're entering one of the best seasons to sell a home, but you can't rely on sunny skies to get the most bang for your buck. You still need to prepare your home to take full advantage of the spring selling season, and we've gathered a few pointers on how to do that.
Landscape
A little mulch and pansies can go a long way. Your lawn is the first thing potential buyers will see, so it makes a huge impression. Take advantage of the warm weather and trim your hedges and trees, replace dead grass with sod, and plant a flower bed to ensure your yard looks as vivacious as spring. Most buyers decide within 60 seconds whether they're interested in a home. If most of those seconds are spent walking across the lawn, you want it to be a beautiful lawn. Investing a few hundred dollars in landscaping has a huge effect in making your home stand out, which automatically increases its value.
Spring Clean
Spring cleaning is a wise habit for every homeowner, but it's essential for anyone looking to sell. Devote a weekend to tossing out clutter, pairing down possessions, and making your floors and walls shine. Buyers like to be able to envision themselves and their possessions in a home, so clear up as much space as you can. Toss out that old lumpy couch you didn't plan to move anyway; box up your winter clothes so closet space appears larger; and rearrange your furniture to make every room open and spacious. Once you have space, make the house itself spotless. If certain walls have more grime than scrubbing can clean, touch them up with a new layer of paint. This deep-level spring cleaning might take more than one weekend, but it pays off hugely when a buyer sees your home.
Anticipate Inspectors
If you've lived in your home for more than a couple of years, you probably have an idea of what problems an inspector might find with it. Before a buyer's inspector comes through, hire your own and make any repairs in advance. Things like updating an electrical panel are inexpensive repairs—especially if they're done before a buyer finds it and asks for a higher figure to be knocked off your home's price.
Brighten Your Home
Unless you're holding an open house during a spring rainstorm, use the beautiful weather in your favor. Windows should gleam to maximize the light coming through, and if it's temperate enough, open a few of them to allow the fresh air to come in. Some realtors recommend using an aerosol spray, but go a step further and set out fresh flowers to enliven rooms. Harnessing the energy of spring will beautify your home, invigorate realtors, and captivate buyers.
If you're planning to purchase, refinance, or learn more about mortgage rates, simply fill out our Fast Response form or give us a call at 888-644-1999.  Our experienced mortgage professionals would love to sit down and discuss your needs. We look forward to hearing from you!
Tags: 2013 Housing Trends, Everyday Living, housing market statistics, Selling Your Home