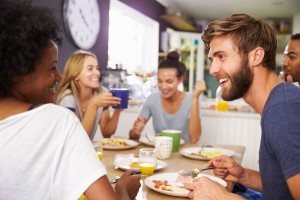 Very few things in life are better than a weekend brunch at home. It's the only meal you can prepare and eat in your pajamas, while you spend quality time with family or friends and pour as many mimosas as you like.
Whether it's for a full house or just you and a special someone, if you want to plan the perfect stay-at–home brunch, you should break it down into three parts: the fare, the beverages, and the finishing touches. Tackle these in that order and you'll have it made.
The fare
When it comes to the proper food to serve on any occasion, you can't go wrong taking a page from one of these 97 brunch recipes! By definition of a brunch, the meal can consist of breakfast, lunch, or a combination of both. From hearty to healthy, consider the atmosphere and complement it with the meal you'd like to create!
Everyone knows the classic brunch dishes, so we let our palates travel down the culinary rabbit hole to find some deliciously unique ideas to try. If you haven't yet had fried chicken and waffles, it's an absolute must. And since we're talking about those scrumptiously griddled goodies, we have to recommend a plateful of dark chocolate waffles paired with some diced bananas on the side. Or, how about a mouthwatering mound of French toast with a pecan crumble?
A mini frittata brunch bar is a great idea if you're expecting several guests, because you can create a dozen different combinations and bake them all at once. Kids love them, too.  
The beverages
Libations are the cornerstone of the perfect brunch. Freshly squeezed juice is essential, especially for a great brunch cocktail. As long as there are vitamins in it, it can't be all bad having a drink before noon, right?
For a wonderfully refreshing spin on some traditional cocktails, try a blood orange screwdriver, tantalize your taste buds with a hibiscus punch, or arouse your appetite with a spicy grapefruit margarita. Each pairs well with savory foods, and they're all packed with a day's worth of nutrients.
A spirited tea is a nice touch with brunch, though a pot of good coffee is an absolute must. And for a simple way to spruce up ordinary coffee, try adding a dash of cinnamon to your mug.
The finishing touches
We like to make brunch even more special by adding a dash of panache to the occasion. That can be simple, like having a vase of flowers that pairs with your tableware. Or it can be more elaborate, like throwing an Oscar-themed brunch, where guests arrive dressed as their favorite film characters, and all the food was made famous in movies (e.g., chocolate truffles from Chocolat, or fried green tomatoes from, well, you know).
What you do with your brunch is all up to you. Get creative and experiment with your ingredients. And most of all, have fun. Share your brunch ideas with us on Twitter and Facebook. And if there's anything we can do for you, we're always here to answer your questions. Bon appétit!
Tags: breakfast, brunch, cocktails, Food