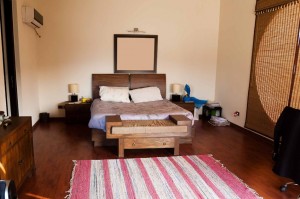 Psychologically, colors have a tremendous effect on the mind. Much research has been done on which colors and tones make people sleepier, happier, stronger, and angrier. It shouldn't be a huge surprise, then, to learn that certain colors can help you sell your home—and others can deter potential buyers. If you need to paint some or all of the rooms in your home before you put it on the market, consider these colors to help sell it faster.
1. White Exterior
The façade of your home is the first thing potential buyers will see, so if there's any wear or chipping paint, it should be the first place to add a fresh coat. The color you choose should ultimately depend on your neighborhood: choose a similar color or a complimentary shade to other homes on your block. If you have some leeway, or if you live out in the country, white is a safe bet. It's among the most popular colors for house exteriors, it makes your house look larger, and it's easy to paint over, if your buyer prefers something else.
2. Earth Tones
Earth tones exude warmth, which can make your home much more welcoming. Coffee has become a popular choice, recently, especially for rooms with hardwood floors—the two complement each other well. For smaller rooms, even darker tones like espresso can make them appear more inviting than cramped.
3. Neutral Colors
Neutral colors have a reputation for looking dull, and they can be, but they're recommended by most realtors for a simple reason: a neutral reaction to a room is better than a negative one. Bright colors can make a room look gorgeous, but if your buyer has clashing furniture and rugs, all they'll see are dollar signs and frustrating painting endeavors. More neutral tones will allow more people to envision themselves (and their possessions) in your home.
4. Softer Shades
Oranges and reds can inspire passion and excite people, but if they're bright, they'll scare off most people. Blues, too, can create a feeling of tranquility and rest, which buyers want to feel in a home, and the softer the shade, the more serenity the room will exude. If you plan to paint with non-neutral, non-earth tone colors, stick with lighter shades.
If you're interested in purchasing, refinancing, or learning more about mortgage rates, simply fill out our Fast Response form. Our experienced mortgage professionals would love to sit down and discuss your needs. We look forward to hearing from you!
Tags: 2013 Housing Trends, Everyday Living, house hunting, housing market statistics, Selling Your Home