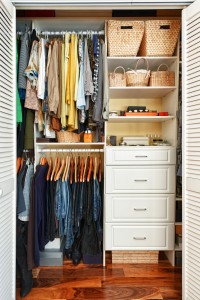 Life is busy, so it's easy for clutter to slowly accumulate until it starts to take over your home. While you may not be consciously aware of it, those piles of laundry or the keys you can't ever seem to find create stress and take a toll on your health. Whether you're looking to sell and need your
home clean for an open house
, or you'd simply like to stop wasting time looking for your phone charger, here are some tips to help you get your home organized.
Kitchen
Whether you're eating a quick bowl of cereal before work or preparing a five-course meal for a dinner party, an organized kitchen will help simplify your life. Hanging pots and pans on the wall is one easy way to clear up space in your cupboards. If you don't have the wall space, investing in a simple rack will save space and make the pans easier to find. It's tempting to go with the "out of sight, out of mind" philosophy with the kitchen pantry, but here are 19 pantry organization hacks that will help you make the most of that space. Tackling the pantry will help create more space in the cupboards for items currently taking up space on your countertops.
Bathroom
Towels on the floor. Hair and makeup products all over the countertop. Sound familiar? While you may leave it looking better than when you entered, the bathroom often looks like the aftermath of a tornado. However, by making some small changes, this doesn't have to be the case. If you have small children, replacing the towel racks with hooks can help eliminate disheveled towels. Using dollar store plastic baskets or a utensil organizer is a great and inexpensive way to organize combs, toothbrushes, and other loose items in your bathroom drawers. If you're tight on space, adding another shower curtain rod to your shower is an easy way to create more storage space. Once you organize the bathroom — and if you're feeling motivated for more — here are eight tips to get you started on your dream bathroom.

Bedroom
The bedroom, especially the master bedroom, often becomes the room where items tend to collect or are hurriedly tossed when the doorbell rings. Even though you may not spend a lot of time here during the day, a messy bedroom can have a negative effect on your sleep. A simple step to reducing clutter would be cutting down the number of decorative pillows on the bed and knickknacks on the dresser. Regularly sort the items in the room. Donate or discard anything you haven't used in a while and move everything else to storage. Learn how to most efficiently fold and store shirts to free up your closet, and use storage bins to organize the space under your bed. Lastly, these 40 simple bedroom design ideas will help you make your bedroom a sleep sanctuary.
Living room
A high-traffic room like the living room can feel difficult to wrangle. Putting loose items such as throw blankets, toys, and board games in bins or ottomans will help cut down on the chaos. Another idea is to invest in bookshelves to create additional eye-pleasing storage spaces. Finally, learning how to most efficiently arrange furniture will help make this area more comfortable.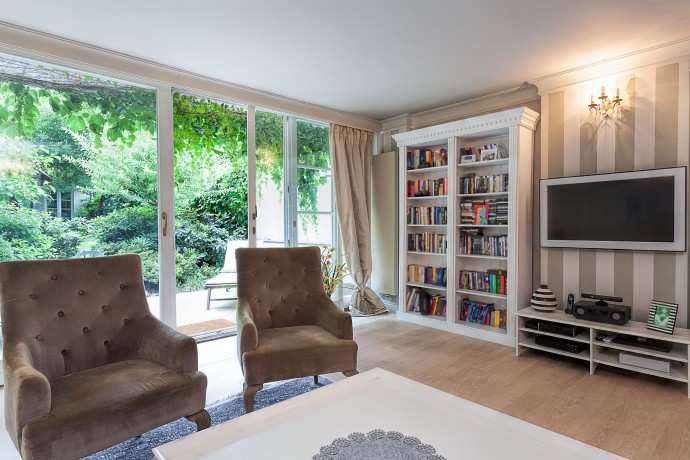 Laundry room
If the piles of dirty laundry have you avoiding this area of your house, this laundry pedestal is a great way to organize multiple laundry baskets under your washer and dryer. Does your laundry room also double as a storage spot for cleaning supplies? Adding a utility board to the wall is a simple way to free up space and organize these supplies.
Don't let the clutter control you. Take these tips and tackle a room each week till you've worked your way through the whole house. If you have questions about organizing your home for an open house, get in touch with us using our quick response form. We'd love to see your organized homes or hear your decluttering tips. Share them with us on Twitter or Facebook!
Tags: Cleaning Tips, home improvement, organization