If you're looking to buy a new home, now's the time to do it. Federal interest rates have been low while the housing market regained momentum, but a recent uptick in mortgage applications has increased rates. 
Home purchases are up 18 percent year over year
, and the Federal Reserve recently indicated that at least one interest rate hike is on its way before the end of the year.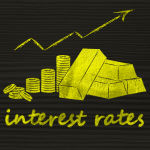 The upswing of the housing market and instability of some international economies have created some volatility in mortgage rates. The upward trend for interest rates combined with the uncertainty of some foreign markets means prospective homebuyers should act now to lock in a low rate while they can.
It's just a few points — so what?
While it may not seem like much on the surface, even a small increase to your interest rate may increase the price of your home by thousands of dollars over time. By locking in a lower rate, you'll have a lower monthly payment, and can save yourself tens of thousands of dollars over the course of your mortgage.
To see just how much you could save by getting approved for your mortgage now, let's take a look at a few examples using a mortgage interest rate comparison calculator.The difference in total payments on a $300,000 mortgage at a 4 percent fixed rate over 30 years versus a 4.5 percent rate is nearly $32,000. In a market with steeper home prices, that savings becomes even more apparent. A $450,000 30-year fixed-rate loan at 4 percent is $47,000 less than the same mortgage at a 4.5 percent interest rate.
Now is a great time to buy a home, but low rates won't last forever. To learn more about the rate you may qualify for, apply online at First Option Mortgage today.