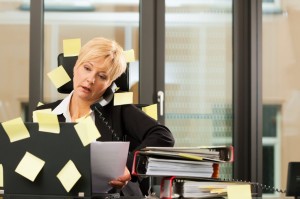 Do you ever feel like you don't have enough time in your day? Demands at the office, family obligations, and social commitments can be difficult to manage for even the most organized and well-intentioned people.
With the holidays behind us and a New Year beginning, now is the perfect time to reflect on how we can free up more time in 2013. Here are five simple tips that can be applied to your life to save precious time in your day.
1. Fight Procrastination
It may be a daunting or unpleasant task, like tax preparation or a DIY home renovation that you have been avoiding. Almost any task, no matter how unpleasant or anxiety provoking, can be tolerated for a short amount of time. Set goals to work through the project in small blocks of time, and most importantly, don't wait to get started!
2. Avoid Multi-Tasking
Research completed at California State University found that attempting to do two or more tasks at a time can actually slow down your progress. This can be counter-intuitive in a culture that drives us to do all things at all times. Avoid picking up the phone, answering e-mails or getting side tracked with a conversation while you are in the middle of a task to complete it more quickly and efficiently.
3. Remember the 80/20 Rule
Known as the Pareto Principle, the 80/20 rule states that, for many events, roughly 80% of the effects come from 20% of the causes. Spend some time to identify what 20% of activities in your life produce 80% of your results. Doing more of these productive activities will allow you to earn more while doing less so you can have more free time to do the things you enjoy.
4. Reduce TV Time
In a recent Neilson Report, the average American over the age of 2 reported spending more than 34 hours each week watching live television, plus another three to six hours watching taped programs. Imagine how much more you could accomplish in your life if you used even ten of those hours on more productive activities! Team up with those you live with to set some boundaries and time limits for watching TV.
5. Avoid Over-Commitment.
Ensuring you have enough time to complete your goals is critical to good mental health. This may mean saying "no" to other people's priorities. Saying "no" might feel selfish initially, but saying "yes" to every opportunity that comes your way might result in several obligations being only partially complete.
If you're planning to purchase, refinance, or learn more about mortgage rates, simply fill out our Fast Response form or give us a call at 888-644-1999.  Our experienced mortgage professionals would love to sit down and discuss your needs. We look forward to hearing from you!
Tags: New Years Resolution, new years resolution ideas, Time Management, time management skills, time management techniques, Time Management Tips