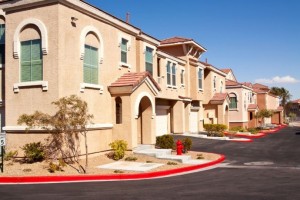 2013 was a very good year for new home sales in Las Vegas—and the city's overall housing market. Builders and contractors enjoyed a huge boost as the market recovered. 7,300 Nevadan homebuyers opted to buy a new property, but fewer folks are making that decision this year. New home sales have declined, and more people are looking to purchase older properties. Because each has its own benefits and drawbacks, you should read the basics about buying an old or new home before you decide.
The Benefit of Buying a New Home in Las Vegas
Nevadan homebuyers have a particular advantage over others in the country: The new home market is a buyers market, at least for now. According to Nevada Inc, builders were so confident that 2014 would show similar growth that they kept upping their prices and lowering incentives. Suddenly the tides turned. The Las Vegas housing market showed an overall decline at the beginning of the year, but new home sales were among the hardest hit. Even after the recovery was back on track, Southern Nevada builders have sold 25% fewer homes in the first half of 2014 compared to a year ago.
This means homebuyers have an edge.
With fewer sales, builders are offering more incentives to potential buyers, and accepting lower bids. If you're considering a new property, you may be able to negotiate upgrades at a lower or no cost. You also have a large inventory to choose from with little competition. Because they expected even more sales than last year, builders began and completed many new properties, now finished and waiting for a buyer.
The Beauty of an Older Nevadan Home
Some homebuyers don't even consider older homes, because they imagine a scenario like The Money Pit: buying an older property for cheap, and then being saddled with an endless cycle of expensive repairs. That can certainly happen, but it shouldn't be an issue if you use a quality house inspector. A pre-purchase inspection should expose any immediate or imminent issues, and your inspector will also provide an estimate of how much the repairs should cost.
Many homebuyers in Las Vegas have begun to purchase older properties not just because they're on a wider spectrum of affordability: they can offer more amenities certain households want, like yard space. New construction sites often feature homes incredibly close together. If you want some breathing room, or features like trees and unique floor plans, many older Nevadan homes will be a better choice. You may just have to browse for longer to find your ideal home.
The Pros and Cons
Homebuying/selling expert Elizabeth Weintraub outlined the basic benefits and detriments of new and old homes. Consider the following qualities before you make your purchase:
Maintenance—Advantage, New Home

Character and Yard—Advantage, Old Home
Wiring, Plumbing, Energy Efficiency, and Appliances—Advantage, New Home
Downtown Proximity and Established Neighborhood—Advantage, Old Home
Storage Space—Advantage, New Home
Unique and Settled Property—Advantage, Old Home
If you're about to purchase a new or old Las Vegas home and are interested in mortgage rates, fill out our Fast Response form or call our local branch at (702) 669-5400?. Feel free to utilize our mortgage calculator to estimate monthly payments. We are here for you!
Tags: 2014 Housing Trends, best time to buy a home, first time home buyer, house hunting, housing market statistics, Las Vegas Mortgage, Nevada Mortgage, Real Estate