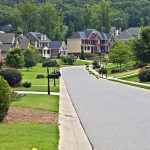 Whether it's in the Silver State or the Lone Star State, the U.S. is seeing housing growth in unexpected places. There are tons of options, and if you're planning a big move, that means a lot of information to sort through. To help you with your search, we've got the scoop on five of America's fastest-growing neighborhoods — and some of them might surprise you.
Power Ranch – Gilbert, AZ
While we've praised the city of Phoenix before, there's plenty to love about the greater metropolitan area, including Gilbert. The neighborhood of Power Ranch is seeing a projected five-year household growth of 15.9 percent. Power Ranch has 26 miles of trails, plenty of community amenities, and two lakes. On top of all that, the National Association of Home Builders recognized it as one of the five best master planned communities in the U.S. in 2002.  
Downtown Dallas – Dallas, TX
Though your first thoughts of Dallas might be football, cowboys, and Big Tex, the city is a booming town with plenty of fast-growing neighborhoods. The downtown area is bursting with life, with opportunities to find townhomes, condos, and apartments. There's also a huge farmers market that's starting to get national recognition. If other downtown areas are a tough sell, you might want to give Dallas a second look — and check out our great guide to the city while you're at it.
Atlantic Station – Atlanta, GA
The Peach State is an appetizing option for a move, no matter where you look. First Option Mortgage's home offices are in Atlanta, and the city itself offers something for every customer, whether you're looking for an active nightlife or someplace to settle. The city expects to have 10,000 new housing projects in 2016. The neighborhood of Atlantic Station has had a major makeover, and offers plenty of housing opportunities, retail, and more!
Mountain's Edge – Las Vegas, NV
While many associate Las Vegas with glitz, glamour, and bad decisions, this up-and-coming neighborhood is a great decision. It's experiencing colossal growth — 19.4 percent household growth over the next five years, in fact! Mountain's Edge is located 14 miles from downtown, and it's a beautiful spot with plenty of new schools, retail, and housing opportunities. If you're looking for a great spot in the suburbs, look no farther than Mountain's Edge.
Highland – Denver, CO
Denver's becoming a great spot to move to, with tons of up-and-coming neighborhoods, but Highland is at the top of our list. This hip neighborhood is an eclectic mix of historical homes and new apartment projects. The whole area has a close-knit feeling of community, and the area is a great place to look for a home if you're seeking a place that combines a more urban feel with the outdoor possibilities of the Rockies just a short car trip away.
Thinking about making a big move? All of these cities have First Option Mortgage offices that can help you make your planned life change a reality. Drop us a line on our fast response form, or chat with us on Facebook or Twitter today!
Tags: best time to buy a home, FTHB, home mortgage, homebuyer, house hunting, househunting, Real Estate