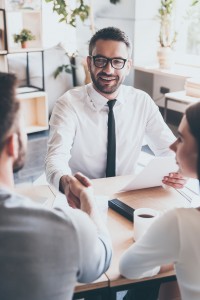 Selling a house is not like other transactions. Unlike most other sales or purchases that you're going to make in your lifetime,
selling your home
requires a whole lot of expertise, process, and time.
When you're putting your house on the market, it's key to work with a broker. Before you hang a sign on your lawn, make sure that you have someone in your corner who knows the business, the market, and how to entice homebuyers. But, you'll also need to do some negotiating yourself, which a lot of homeowners can find intimidating. It's not, though.
If you have the right information and attitude about real estate negotiations, it's likely that you and the homebuyer can soon come to an accord.
Determine what your own values are
Before you sit down at the bargaining table, you have to know what's important to you. What are you hoping to get out of this home sale? What are your target ranges? Where are your red lines? What are things that you'd be willing to trade away, and what are the things that are completely non-negotiable? Work with your broker before negotiations begin to find out what it is you need, want, or hope for when selling your house. It's only when you know what you want that you'll be in a good position to get it.
Listen to and recognize what the other party has to say
Negotiation does not mean overpowering the other party with bluster or force. Instead, listen to what they have to say. Find out what they want and what's important to them. If you can discern what the other party values, then you potentially have something to offer. Buyers will probably want a variety of things. Maybe they want a yard or a guest room. Perhaps it's important that they be near good schools. Do they want to be close by amenities such as cafés or dog parks? Do they enjoy the seclusion of being on the edge of an urban area?
Those things and more are all potential bargaining chips that you can use, and you'll only gain those bargaining chips if you lend a certain amount of empathy to the other party. Plenty of successful real estate professionals can tell you that you'll likely come to a better conclusion at the end of it if you're less mob boss and more a good listener.
The seller and homebuyer are not enemies in this situation. Negotiation is a partnership. Both groups want the deal to go through. This isn't a matter of outplaying each other; it's a matter of building a deal that works for everyone involved.

Don't be afraid to make the first move
For a long time, the conventional wisdom about negotiation was that speaking was a mistake. But, that is not always the case. Making the first move in a negotiation can be an advantage. By doing so, you provide an anchor and context for how the interaction is going to play out. When you speak first, you define the terms of how the home sale is going to happen, so don't be afraid to be the first one to open up. It could mean that the sale takes place according to the terms you define.
Build to a win-win outcome
Unless you've said exactly the right thing, it's unlikely that a homebuyer will accept your first offer. They'll probably make a counter offer, and give a variety of reasons for why they came to the conclusion they did. Listen to their reasoning. If you don't make them feel heard, that will just give them a reason to end the discussion. After that, make your own counter offer that takes their objections into account without sacrificing your core values. Eventually, you and the homebuyer will hopefully reach a conclusion that leaves everyone satisfied. However …
Be willing to walk away
If it becomes clear that you and a prospective buyer are not going to come to an agreement about your home, be willing to throw in the towel. When selling something as important and emotionally loaded as your home, it's very possible to get mentally invested in an outcome. You might find yourself desperate to come to a deal
However, rushing things, trying to make a bad deal work, or forcing a sale before it's ready could leave everyone unhappy. You might miss out on thousands of dollars from another homebuyer. The buyers might end up with a home that they did not truly want. Being willing to step back and end negotiations is a necessary skill for any seller.
Got negotiation tips? Share them with us on Twitter and Facebook, or get in touch with us anytime for all of your mortgage and real estate needs.
Tags: Selling Tips, Selling your house