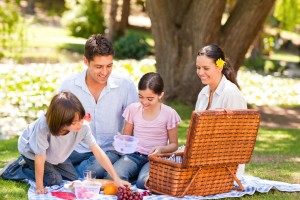 Buckle your seatbelts, folks: July is National Picnic Month, and arguably one of the best months of the year for it! You've done the hard work prepping your home for the hot summertime months; now, it's time for the fun. Who doesn't like sunshine, delicious foods, and nature walks to beautiful locales? Picnics are a great way to see the city you live in, and we've got your guide to creating legendary summer picnics that you'll remember for a lifetime. Follow along to make sure all the points are in order.
Find the location
The most important piece: Where to go? Before you start sending out the invites, it pays to find a really good spot to stage the picnic itself. Here are some potential ideas:
A public park with plenty of shady trees or shelters.

A local beach or waterfront locale.

Scenic byways with picnic tables.

For urban dwellers, try a park with a basketball court or baseball diamond for a fun pick-up game.
There's always the option of hosting in the front or back yard of someone's home if you have the space. Just lay out a classic checkered blanket and plop down for some delicious food in the sunshine. If you're struggling to find a place, the Outdoor Project has plenty of great suggestions for your picnicking adventures.
Plan the activity for the audience
While a solitary picnic can be relaxing, everything's better with friends and family. You want them to want to come along — so make sure to come up with activities and ideas to get everyone excited! A day of field games and scavenger hunts can be pretty persuasive. Some activity ideas to get people itching to come along:
Card and board games.

Barbequing at a park with public grills.

Frisbee, flag football, volleyball, croquet, badminton, bocce ball — lawn game sets are often super affordable.  

Hot potato or duck, duck, goose for the younger gathering.
Prepare the spread
Figuring out the menu is the other half of the work, but this is where you really get to shine. Online resources for picnic food ideas abound with delicious and delectable on-the-go recipes to make your summer picnic a hit. Some pro meal prep tips:
It never hurts to pack a little extra food in case more people are able to attend at the last minute.

Stick with foods that can take the heat. You should definitely bring a cooler, but you'll want plenty of room for drinks. Foods that don't need refrigeration mean no risk of spoilage while you take your time in the sun.

Family style sharing is easier than preparing individual servings — and cuts back on the number of storage containers needed.

Don't forget ice-cold drinks, napkins, plates, and utensils!
Ready, set, picnic!
Now that you have everything planned out, it's time to get out there and picnic. Go enjoy the month. Picnic ahoy!
Have more great picnic ideas? Let us know about them on Twitter or Facebook! If you're looking to buy a home in an area that has more outdoor opportunities, or is more suited to your lifestyle, contact us so we can get you started on the journey.
Tags: Everyday Living, first option mortgage, Real Estate