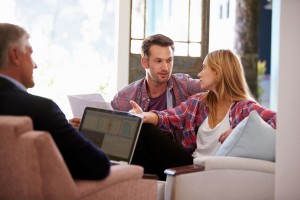 June 28 is National Insurance Day, which we think is a perfect chance to think about homeowner's insurance!
We'll review the important reasons why you should get homeowner's insurance, as well as some things to keep an eye out for when you're shopping for a policy. We also have a similar guide for private mortgage insurance.
What is homeowner's insurance?
Simply put, homeowner's insurance is a type of insurance that can cover the belongings in your home, your home itself, or a combination of both. As a rule of thumb, most reputable mortgage lenders require recipients of a loan to pay for an insurance policy to protect against negligence or natural disaster.
Homeowner's insurance policies protect against most natural disasters, though some policies require separate policies for flood and earthquake coverage.
What types of coverage are there?
There are four types of policies (HO) for people who own their own homes:
HO-1: Known as a limited coverage policy, this type of policy protects you against 10 different types of damage (also known as perils) your home might face, as defined by the insurance provider. This type is becoming less common, and isn't available in many states.
HO-2: This basic policy provides protection against 16 different types of damage. It can also provide protection specifically designed for mobile homes. It's important to note that HO-1 and HO-2 only protect against the damages specified and don't cover personal belongings.
HO-3: One of the more common types of coverage, this insurance protects the property from all types of damage, and also protects personal property from named types of damage.
HO-5: This is the most expensive and highest quality coverage, which fully covers the property and personal belongings of the insured.
There are also two other types of homeowner's insurance — HO-4 and HO-6 — which are primarily designed for condo owners and renters, and usually just cover personal property.
What will my HOI premium be?
That one is tough to say, because there are a number of factors that go into determining this amount. Usually, your premium is dependent on how extensive your damage coverage is, and what sort of reimbursement you'd like in the event of a disaster. Commonly, there are three categories:
Actual cash value: This type of coverage provides you with a replacement for your possessions and home, with a deduction for home depreciation.
Replacement cost: Similar to actual cash value coverage, this provides a replacement for possessions and home without a deduction for depreciation.
Guaranteed/extended replacement cost: This is usually the most expensive type of coverage, as it provides for the replacement costs as well as any extra costs that might appear due to shifts in construction prices.
If you're curious about what the costs of insurance might be, head over to Progressive's website for more information.
Who should I find insurance with?
There are plenty of insurance providers out there, and you should look for the one that offers you the best price point for the value of the insurance you're receiving. There's a search engine to get you started, and your loan officer can also recommend companies. Remember, when it comes to insurance, you usually get what you pay for!
Celebrate National Insurance Day by refreshing your knowledge of your homeowner's insurance policy. And if you don't have it, consider looking into buying some. If you're interested in taking the next big step and buying a home to insure, contact us using our fast response form, or shout out to us on Facebook or Twitter.
Tags: HOI, home insurance, home ownership, home ownership costs, homeowners insurance, Insurance