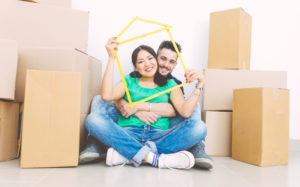 It's the most wonderful time of year! That's what they all say, right? But what if you're a renter moving into homeownership, or a homeowner still in the first few months of moving in? Every family moves into their first home discovering almost immediately that they've uncovering a million things that would make their move easier. So why not turn your holiday gift into a much-needed housewarming this December?
When it comes to last-minute gift giving, what do you get for the budding homeowner?
Every house presents a unique situation with its own set of tools. Read below to find some of the best items homeowners can use to turn a stressful move into a handy-dandy fix!
Tools
Owning a home means that you are the landlord and tenant, and that means being in charge of all the repairs! So stock up on tools! Different fixes require specific tools, so the more the merrier! Here are some tools that will brighten up a homeowner's first few months:
Toolbox:
A toolbox is useful for carrying all those useful screwdrivers, wrenches, and pliers. While some toolboxes come pre-assorted with all the necessary tools, a sturdy toolbox will help your homeowner care and keep all their tools in one place. Unscrewing vents, hanging doors, and tightening pipes are just some of the minor repairs that new homeowner in your life will now have access to.
Tape Measure:
While a toolbox is invaluable, most jobs will require a handy measuring tape to accompany that hammer or drill. Measuring the dimensions of furniture and balancing shelves will save up time and stress with any balancing project.  Ensure the job is done right the first time with a handy level and some measuring tape. Up that carpentry game with some measuring tape!
Stud Finder:
Smaller frames and decorations might be alright with a nail held in drywall, but when you don't want to count on it holding the weight of heavier decorations and costly televisions. A stud finder will help you find the sturdy foundations in your walls, avoiding damages to your drywall.
Vise Grip:
A set of pliers or a cinch is often overlooked during move-in. If something is in need of gluing or just holding in place for several hours, a grip will do the job so hands shouldn't have to.
Another Pro-Tip: If you're dealing with pesky screws or nails that seem too stripped or bent, a vise grip will help apply leverage to help remove them.
Glue & Duct Tape:
A temporary fix-all for all things, duct tape can cover broken gaps and bind metal and wood. For everything else, a strong, industrial glue is a useful pairing for all sort of household fixes.
Shop Vac:
When plumbing or air-conditioning fails there's duct tape. However, when duct tape fails you will have to deal with all sorts of messes. A wet-dry vacuum is a tool any homeowner needs when committing to a DIY project. You can switch between settings to blow debris out of the house or suck in spills and dirt. Cheaper shop vacs also run for about $20, making it a convenient tool for the budding homeowner.
Ladder:
Don't be the home that uses a chair for a stepladder, unless you DIY and repurpose one to be both convenient and safe! Beyond scuffing brand new, upholstered dining room chairs, step ladders are also factory-tested tools to ensure your safety for a much longer time. Take it from us—it's truly a caring gift!
Anything Else, but Smart!
We live in a new century! Air-conditioning can be changed at the touch of a button on your mobile, and doorbells come pre-built with surveillance. To help a budding homeowner get into the season of smart homes, try one of these smart gifts to start them off. If they're just starting out, a hub device from one of the many different companies is a perfect gift—just do your research first!
Peace of Mind
Nothing is greater in the holiday season than gifting peace of mind.  From renters to homeowners, a housewarming gift can be a kind and thoughtful thing! If you're wondering if homeownership is possible, give us a call! We have Mortgage professionals just a call away that can help!