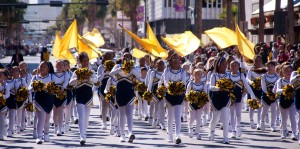 If your family is moving, you should consider Las Vegas for the destination. There is a lot more to the metro area than what makes it famous. Sin City is a great place to buy a new home and raise your family. The Great Recession hit Las Vegas hard, but the housing market is back on track. For those with concerns for children, every large metro has its own pros and cons. Las Vegas is no exception, but the pros may surprise you.
The Latest Las Vegas Housing Data
The Standard & Poor's/Case-Shiller home price index is one of the top reports to consider when you're researching real estate data. The June index shows a 1.36 percent growth month-over-month and a 15.20 percent price increase year-over-year. Las Vegas is the only U.S. city to improve that much over the course of the past year. Obviously, this is very good news for home sellers, but also for families looking to make a strong investment with payback in the future.
Additionally, the Greater Las Vegas Association of Realtors (GLVAR) revealed median home prices reached $200,000 in July for the first time since August of 2008. Pair the affordable prices with rising inventory, and you have plenty of options for your family. The GLVAR reports inventory is up 55.2 percent compared to July 2013.
Which Las Vegas School Districts Are the Best?
The city of Las Vegas only has one school district, Clark County. Which school your children attend is dependent on which zone your home is in. The city makes it easy for you to research the academic performance and accountability results of each zone. The reports by the Clark County School District include not only public schools, but also charter schools. You should also review the state's report by the Nevada Department of Education (NDE) to make an even more informed decision. Las Vegas is also known for having a healthy homeschool network. And for those eyeing the future, the U.S. News & World Report ranks the University of Nevada — Las Vegas (UNLV) at number six as one of the best colleges for a diverse undergraduate campus, highlighting in-state tuition and fees at $6,570.
Las Vegas Neighborhoods for Kids
School districts and neighborhoods tend to go hand-in-hand. We have researched and compiled the best Las Vegas neighborhoods for families. Henderson, Nevada is one of the most popular neighborhoods for young families. Once considered a suburb of Las Vegas, Henderson is now its own community. Both cities are in the same county, with Henderson located just south of Vegas. Living in Henderson can feel separate enough from the Las Vegas environment to be safe for children, yet you're close enough to Vegas to catch top acts and performers like Cirque du Soleil.
Related resource: Las Vegas Sun crime map
The real estate blog Movoto ranked Las Vegas as the number four city in the state in terms of livability in February of this year. They based their rankings on such amenities as median home price, median household income, cost of living, taxes, unemployment, crime rate, student-to-teacher ratio and weather.
Speak to a qualified First Option lender to review what home loans are available for you and your family in Nevada. Once you're armed with a pre-approved loan, we can pair you with a vetted real estate agent with experience in Las Vegas. To get started, fill out our Fast Response Form or give the local branch a call at 702-669-5400.
Tags: Family Tips, Home and family, Las Vegas Everyday Living, Las Vegas House Hunting, Las Vegas Mortgage, Nevada Mortgage