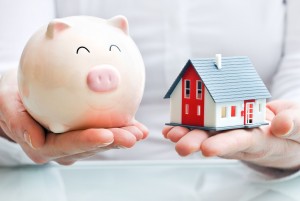 It doesn't matter whether you're
moving across the country
or down the street; those moving costs can really add up. From rental trucks to professional movers to packing supplies and six-packs, you'll have to factor a lot of costs into your moving budget.
Or you can just follow these five simple tips for an economical way to get you and your stuff from Point A to Point B — with plenty of money left over.
1. Get rid of stuff
Before you start packing, but after you've organized all of your belongings, separate the things you don't want to bring with you. It'll make moving out easier, moving in quicker, and it could even fetch you some extra money.
Have a big garage sale or estate sale a week or two before the actual move-out.

List antiques or hard-to-find items on online auction sites.

Donate items to Goodwill and use the credit at tax time.

2. Don't start furnishing just yet
As much as you want to start shopping for sofas, rugs, and drapes for your new home, don't do it just yet. First, get in there and unpack your possessions, then you can really see what you'll need to buy.
If it makes you feel better to do some shopping, you can take pictures of items you want at department stores then create a sort of interior design blueprint. Or, if you shop online, add items you want to your virtual shopping cart and leave them there. Buy them only when you can afford them.
3. Pack with what you have
Boxes are pretty essential to moving, but you don't have to go out and buy brand new ones. Odds are you have some decent moving boxes or bins in the garage or attic. Try asking friends if they have any extra boxes you can use, or politely ask the shipping-and-receiving workers at your local supermarket for any extra boxes.
The same goes with packing materials. You don't need to buy big rolls of bubble wrap for $25 each when you can use crumpled-up newspaper, catalog pages, old phone books, bathroom towels, or clothing.
Also, pack your hanging clothes in trash bag sheaths. Simply cut a hole in the top of a trash bag, slip it over about 10 pieces of hanged clothing, and pop the hooks out of the top. It'll make moving easier, and it'll keep your nice clothes clean.
4. Pay friends to help
It's always a tricky situation asking your friends to help you move, and we've all been on the opposite side of that equation — especially if you own a truck or van. Now it's time to redeem that favor for all those past moves.
You'll probably still have to rent a moving truck as well as pay for pizza and beer for your crew of pals, but that's nothing compared to the $350–$650 cost of hiring professional movers.
Just a note: Our golden rule for moving friends is, once you've reached the age of 35 you should no longer ask or be asked to help a friend move. Things break a lot easier (and we don't just mean your belongings).
5. Move in the off-season
If you decide to rent a truck and hire professional movers, try not to do it during spring or summer. The busy period for movers is between May and September, and they're usually either booked or bumping up their rates.
If you can, try to move during the week because availability and pricing are usually much better than on weekends. And avoid moving anytime near the very end or beginning of a month, if possible.
Are you thinking of moving soon? Buying a new home? We're always here to help. Reach out to one of our trusted team members, or connect with us on Twitter and Facebook.
Tags: money-saving ideas, moving, Moving advice, tips and tricks