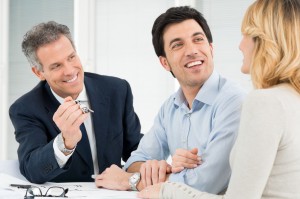 The Federal Open Market Committee (FOMC) expects to end QE3 in October. Minutes from their June and July meetings reveal positive economic indicators, leading them to wind down their third "Qualitative Easing" program if recovery stays on target. Currently 30-year mortgage rates are close to 14-months low. If QE3 is halted, Fed officials believe rates will remain low for some time. But when rates do rise, how do they affect your mortgage payments?
About FOMC and QE3
The 12-member FOMC creates monetary policy to bolster economic growth and employment and to stabilize prices. They hold eight meetings a year. They release to the public their economic and financial findings, opinions of committee members and how they differ, and expected future action items. The FOMC objective is for inflation to move back to a stable 2 percent and to see an increase in employment.
The first QE was introduced after the start of the Great Recession in late 2008 to curb mortgage rates and to add juice to the housing market. To do so the Federal Reserve buys mortgage-backed securities and Treasury bonds. QE3 was released in September 2012 and brought mortgage rates down even further to an average of 4 percent, with many mortgage lenders quoting rates around 3 percent.
The Fed Minutes of the July meeting show a divided group, both on how healthy the economy is and when to end the stimulus. It was agreed, however, that the economy is in transition. At the start of August, QE3 is now made up of $10 billion per month in mortgage-backed bonds and $15 billion per month in long-term Treasury securities. Each were reduced by $5 billion.
While the long-term securities are lower than before, they should help keep long-term interest rates low too and strengthen the economy even further. Upon release of the July minutes, the dollar strengthened by 0.8 percent, the highest since April.
Your Mortgage Payments and Options
As QE3 comes to end and bond rates rise, it is only a matter of time before mortgage rates increase too. With the closing of QE3, expect rates to rise to 5 percent to start based on historical data.
If you are on the fence on whether to purchase a home now or not, then hop on over to the now side. Even if it is predicted rates will remain low for a time being after the end of QE3, why risk it? Current interest rates are excellent, ranging between 2.375 and 4.000 percent. Speak to a First Option mortgage lender to discuss which home loan is right for you and your family, and to see what type of rate you can get, which is based on:
The type of loan
Loan terms
The loan amount
The type of home
Your financial and credit history
Now, if you already have a 15-year or 30-year fixed-rate mortgage, then you are set. Your interest rates are not going to fluctuate because that is the amount you signed on for. But if you have been thinking about reducing your 30-year mortgage to 15 years, then read our articles for questions to consider and whether or not refinancing is an option as well. To test the difference, try our mortgage payment calculator.
If you are a holder of an adjustable-rate mortgage (ARM), then you will feel the effects of QE3 phasing out. Give us a call today at (855) 293-7397 to discover your best options!
Tags: 15-year fixed rate loan, 30-year mortgage, Adjustable Rate Mortgage, home mortgage, mortgage education, mortgage interest rates