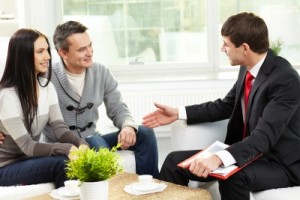 Home mortgage rates are at their lowest point in many years. Renters who have been considering home ownership are watching rate changes closely. Those who are considering refinancing are paying close attention, too.
Many factors determine mortgage interest rates: the strength of the overall economy, new home construction and existing housing supply, unemployment, and inflation, to name a few. Banks and aggregators also play a significant role; they're willing to lend more money at lower rates when they're confident that borrowers will be able to repay them.
While nobody can know for sure where the exact "bottom" of the market will be, history shows that now is one of the best times to purchase a new home or refinance an existing one. Changes to any of the following can alter interest rates:
1. The Federal Reserve has kept inflation low and loaned money at lower rates to boost lender confidence. The resulting mortgage rates we're seeing today are almost unprecedented.
2. Unemployment has been on the decline since it peaked most recently in late 2009, but has not yet reached pre-recession levels. When unemployment reaches a certain level, expect the Federal Reserve to remove some of its checks on inflation, and to see interest rates start to creep back up as a result.
3. Housing supply is falling in line with demand after the bubble burst. Developers have slowed or abandoned new housing projects, and fewer people who bought at the peak of the market are moving. This will cause home values to rise eventually, but more immediately it will likely result in increased competition for the few homes on the market.
So what can you take away from this information? As rates continue to bounce along the bottom, you'll be sure to look back on the decision to refinance or purchase without regret. Although one can never be certain to hit the very bottom, interest rates are low enough to make the plunge if the timing is right for your own life.
Whether you're looking to purchase, refinance, or learn more about mortgage rates, our experienced mortgage professionals would love to sit down and discuss your needs. Simply fill out our Fast Response form or give us a call at 888-644-1999.
Tags: first option mortgage, home mortgage, housing market statistics, interest rates 2013, mortgage interest rates