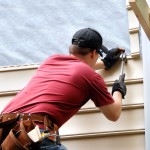 You've followed our guide on 15 ways to save for a new home, and now you have enough to make that down payment. But what if the home you're looking at needs some TLC — or more than that, some serious renovation? Financing a fixer-upper can be tough, but we're here to walk you through it!
Think hard about the home
The process of buying a home is pretty stressful without the extra work of renovating it, too. Before you decide to go down this route, make sure the house is a fixer-upper, not a money pit. Some houses are simply infeasible to renovate, even for someone who's super motivated about the process. There's a difference between a teardown and a fixer-upper. If a house needs to be completely torn down because of major structural problems, you might want to look for a different home. These sorts of issues can permanently prevent you from seeing a return on your investment. However, if the home you're looking at is just in need of some elbow grease and a DIY mentality, one great option is available to you.
The FHA 203(k) Rehab Loan
In the past, if you wanted to finance a home that needed fixing up — and you didn't have the money on hand to pay for the renovations — you needed to take out two separate loans on the property. One loan would serve as the mortgage on the home, and the other would be a conventional loan. Interest rates were hard to predict and might place an undue burden on whomever was trying to pay for the home. In some cases, banks wouldn't grant mortgages on homes in need of expensive repairs.
Now, the Federal Housing Administration (FHA) has a program that helps buyers purchase a home and renovate with one loan. It's called an FHA 203(k) rehab loan. While it might sound too good to be true, it's important to remember that the FHA has several qualification guidelines in place for these loans. For example:
The home needs structural, cosmetic, or health and safety improvements. Check the list in the link above to see if the home you're looking at qualifies.
You must have a qualified lender (First Option Mortgage is a great example).
You need to meet several requirements, including debt-to-income ratios, minimum credit scores, and proof of income.
FHA 203(k)s also have some other pretty great features. The minimum down payment is 3.5 percent, so you won't necessarily wipe out all your savings. But the program only allows you to finance $35,000 worth of your mortgage for home renovations, so major remodels and projects taking longer than six months will likely exclude you from qualifying.
Have you got your eye set on a fixer-upper? First Option Mortgage is a national leader in lending services; we'd love to help walk you through the process of financing a fixer-upper home with an FHA 203(k). Check out our fast response form to get started today!
Tags: fixer-upper, fixer-upper mortgage, how to get a mortgage, Mortgage