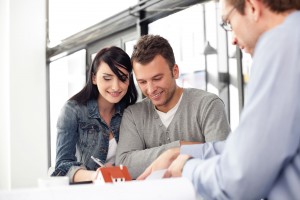 Millennials know what's in style. It's in their DNA as so-called "hipsters." And what's in vogue right now for Americans born between 1982 and 2000 is buying their first home, with the affordable suburbs their destination of choice.
The numbers are in
Sixty percent of first-time homebuyers in 2015 were between the ages of 20 and 39, with the median age being 33. Half of all first-time buyers were under 36, and half of all sellers were under 41.
Now numbering 75.4 million, the millennial generation is quickly becoming the dominant force in the U.S. housing market. For the third consecutive year, millennials have made up the largest overall share of homebuyers in the U.S., with 35 percent of the entire market. Generation X, or those aged 35 to 50, made up 26 percent of recent home purchases. The Baby Boomers, or people aged 52 to 70, took about 30 percent of the market. And the Silent Generation, or those aged 71 to 90, represented the smallest amount of buyers, with about nine percent.
Along with buying more homes, millennials are also driving more diversity into the market. Only 66 percent of millennial homeowners are Caucasian, while 17 percent are Hispanic, 10 percent African-American, and seven percent Asian or Pacific Islander.
But why the suburbs?
What's the reason for this shift from metropolitan areas to the family-friendly suburbs? Cost, mostly. Millennials are saddled with more student debt than older Americans, and apartment rents continue to soar out of control in city centers and downtown areas across the nation. A lot of the existing housing available in those sought-after urban areas is either far too expensive to buy, or the homes are being bought and turned into high-priced rentals. But if you drive 15 minutes outside of the city to the suburbs, you'll find a steep reduction in home prices (and maybe even a driveway).
Plus, the average monthly rent of a downtown or urban apartment is about equal to, or sometimes much more than, a monthly mortgage payment. So millennials are more willing to live farther away from a city center in order to own a home. And planned communities are popping up in suburban areas all over the country, meeting that demand.
Some good and bad news
The 'burbs are hot, but that doesn't mean the home-buying process is a breeze. Buyers spent an average of 4.2 months shopping for a home, with 32 percent of them exceeding their initial budget. Making more than one offer has also become the norm, with many buyers making multiple bids.
The good news is home values have risen nationwide by 22 percent this year. The median home value climbed 5.1 percent in August alone, up from 4.6 percent a year earlier.
The best cities to buy in
The National Association of Realtors put together a list of the best cities for younger homebuyers, by factoring in median incomes, average home prices, and job markets. Some of the top few are:
Ogden, Utah

Austin, Texas

Denver, Colorado

Minneapolis

, Minnesota

Portland, Oregon

Charleston, South Carolina
Are you thinking of buying your first home? First Option has branches everywhere you want to be. Get in touch with us anytime, or connect with us on Twitter and Facebook.
Tags: first, home, millennials, rent, suburbs