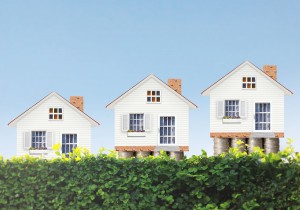 Part of our mission at First Option Mortgage is to keep you informed about the latest trends in the housing market. Whether you're trying to find a fixer-upper or the home of your dreams, we want you to have the best information possible so you can go into the market with the knowledge and confidence you need.
It's still a seller's market …
A large (but ultimately positive) contribution to the current seller's market is the low rate of foreclosures in the American housing market. In fact, April saw foreclosures hit their lowest since 2005. People are staying in their homes, and they seem to be more secure in them. Mortgage delinquency is also down. Homeowners are paying for the homes that they've bought, and the market seems far less volatile on that front.
This is good, of course. But it also means that the housing market will continue to slightly favor sellers. The increased housing stock that accompanies foreclosures can potentially drive down the cost of houses.
… Except for luxury homes
For the vast majority of the housing market, supply is struggling to keep up with demand. However, there's one area of real estate where the first quarter of 2017 saw a slump, and that was in the sale of luxury homes. According to Christie's, mansions, high-rise condos, and other homes priced at over $100 million are selling less rapidly than they used to. While the report makes for interesting news for real estate enthusiasts, it's also worth noting that luxury home sales are a very small part of the overall market. When it comes to single family homes that make up the majority of real estate, houses are going off the market rapidly. New supply is necessary to match that demand. Fortunately …
Housing construction is back
Indicators are continuing to drip in for the past few months, and it looks like home construction is finally back after a ten-year slump. Prior to the financial crisis, numerous cities saw large amounts of housing built for buyers who were never able to move in. The excess supply drove down the value of new homes, so builders were strongly discouraged to construct new houses.
That seems to have changed, though. Construction of single-family homes rose by 15.6 percent in March 2016, which is above what most of the estimates for that month projected. It seems possible that this trend could, in a broad sense, continue. According to ABC News, the U.S. needs 1.5 million new homes to keep up with the demand for houses. Young people are finally able to get jobs and housing in the improving economy, and people that previously were renting apartments are now seeking more space in single-family homes.
We'll continue to keep you up-to-date on the market. In the meantime, you can connect with us on Facebook and Twitter for the latest news. And if you have any questions or comments, please leave them in our fast response contact form.
Tags: homebuying, housing market, housing trends