The extent of our mission to put people first does not extend solely to our customers, but it also reaches our employees, realtor partners, and local communities. With each partnership made, we align ourselves with businesses sharing similar values. When given the opportunity to share the amazing work our realtor partners are involved in, we do so jubilantly.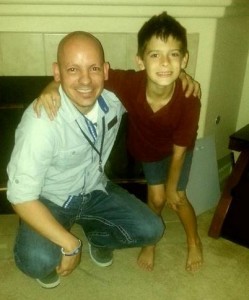 The story…
Meet Las Vegas realtor partner, John Gianniosis with Keller Williams. John is a proud volunteer and mentor with the non-profit Big Brothers Big Sisters of Southern Nevada.  When John first joined BBBS, he was paired with 10-year old Brock. Although initially shy, it didn't take long for John to break down walls and build Brock's trust.  The two quickly became friends and enjoyed doing things like playing basketball and football, going to festivals and taking hikes in the great outdoors.
While John found comfort in providing Brock a source of fun and adventure, he knew there was much more to offer as a Big Brother. As a successful real estate agent at Keller Williams, he understood the importance of skill-building activities which could potentially set Brock up for future success in a business setting. With that in mind, John brought Brock to his real estate office to gauge his interest. Unexpectedly, there was immediate attentiveness from Brock. He was eager to join John during home showings and meetings with potential sellers, and he always asked direct, thought-provoking questions.
One day, when the duo was headed to show a home Brock inquired about John's compensation from the sale of the home.  After John's response, he naturally, like most children, got excited about the prospect of receiving a large sum of money. He continued the conversation by asking "What if we sold a million dollar home? How much would we make?" In response, John estimated around $30,000 which sent Brock over the moon. Absorbing what he just learned, Brock said, "So the higher we sell, the more we make. I love real estate!" Aside from the financial rewards, Brock had shown a genuine interest in learning about the real estate industry and asked that John show him the ropes so that one day they could work together.
From that day forward, John has committed to providing Brock with the skill-building tools necessary to create a successful business path.  He has seen Brock's natural ability to think like an entrepreneur.   With John's guidance, Brock has steadily been building his real estate vocabulary. In the summertime, John plans to build Brock's confidence and ability to connect with people by door-to-door sales and setting up appointments for his clients.  His hope is that one day Brock will work side-by-side with his childhood mentor.
With John's commitment and dedication to the Big Brothers Big Sisters organization, he is giving a child support, friendship, and growth that will impact him for years to come. Great job, John!
Tags: Charity, Las Vegas, Volunteer