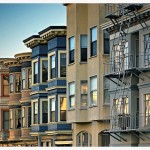 Does your neighborhood feel less than neighborly? Have you walked around and wondered what you could do to make the place feel more like a community? As more and more first-time homeowners choose to move to new cities — especially
18-hour cities
— many also find themselves in new neighborhoods without any tethers to the wider community. How do you meet your neighbors these days? How do you build a community? It's not as hard as you might think.
Paint the intersection to slow down traffic
Creating murals inside intersections is an easy, effective, and beautiful way to discourage speeding through a residential neighborhood. Muraled intersections slow drivers by distracting them — we all instinctively slow down when there's something ahead that our eyes can't instantaneously understand. All you need to make your own intersection mural is a permit from the city, some street paint, and whatever equipment you need to reroute traffic while you and your neighbors get your art on.
Start a tool library
Ask anyone who's been a part of a tool library and they'll tell you it's a great way to affordably renovate or repair your home — and an even better way to meet your neighbors! To get a tool library up and running, you really only need a hefty collection of tools, space to store them, and a few volunteers to lend them out. Several dozen libraries are already up and running around the country. For more info, check out this guide on how to start a tool library.
Install dog waste stations
It's simple: clean streets = better community. Keeping dog waste off the sidewalk (and your shoes) is a fast track to a cleaner and healthier neighborhood. You can purchase stations or make them yourself. DIY versions don't look quite as sophisticated, but they're a great way to get to know your neighbors and spread the word throughout the community that picking up after pets is important.  
Build benches along the sidewalk
Installing public benches is an easy and quick way to entice neighbors to spend more time outside. And that leads to meeting new people, chatting with neighbors you rarely see, and building a community. Many communities have commissioned local artists to design and build public benches. In other areas, organizations offer plain benches to neighborhoods hoping that residents will paint some life into them.
Start a community garden
Empty lots are more than wasted space; they're an eyesore. Put them to good use by starting a community garden. Just make sure you get permission from the lot owner and the city before you start digging. And if you need a jumpstart, Let's Move has a good step-by-step guide to starting your own community garden.
What are your favorite ways to build community and create a more neighborly neighborhood? Join us on Twitter or Facebook and tell us about your experiences. And if you're looking for a new home, get in touch with one of our many branches today!
Tags: Everyday Living, homeowner, Real Estate