Your home is more than just your house. A front or back yard is also part of your home, and making the most of those spaces can be just as important as having a welcoming living or dining space. We've previously talked about how to spruce up outbuildings by turning your garage into a living area or making a she shed, but here's a brief guide on turning your outdoor space into a room of its own.
Create a living area
Lounging around in the backyard can be relaxing even if you're just sitting on the grass. However, your backyard space can be so much more. Adding a deck or patio underfoot is a good first step toward making an outdoor living area in your backyard, but also think about what's above. Adding an overhang or an enclosure to a patio can provide a bit of shelter, so you can enjoy your backyard even if a few raindrops are falling. For an added flourish, consider adding a bower. Grapevines snaking up the overhang will lend a Mediterranean flourish to your outdoor space, and provide cooling shade during the summer. Furnish the space with some comfy weather-resistant furniture, and you have an area where you can recline and relax all year round.

Make a dining area
Putting a picnic table and a few chairs in your backyard is easy enough, but your dining area doesn't have to be limited to the simple setup. With a little ingenuity, your backyard can also become an open-air kitchen. The classic American barbecue grill is an obvious candidate for backyard cooking, but you can take things even further with the addition of a wood-fired terracotta oven or ceramic smoker for the full outdoor chef experience. With an outdoor dining area, you'll be able to take in a sunset during an evening meal, and you'll have a great space for entertaining when guests come over.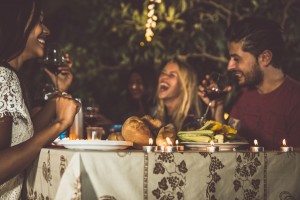 Add outdoor lighting
As the sun sets and you find yourself chatting with your guests long into the dark evening, you're going to need some ambience. Outdoor lighting is one of the best ways to easily add character to your yard. You can highlight the trunks and leaves of trees, mimic the look of moonlight, or capture the stars with fairy lights hanging from your eaves or overhang.

Gather around the campfire
A fire pit is one of the most basic, yet also most important features you can add to an outdoor living area. Humans have been gathering around flames for thousands of years seeking comfort and warmth. Building a fire pit is fairly straightforward, and you'll immediately have a backyard feature that will be universally loved by you and your guests. Be sure to consult your local regulations about fire pits before you build, though. Safety regulations about them are fairly common.

Make an outdoor movie theater
A projector, screen, and some speakers are all you need to have your own movies-in-the-park experience in your backyard. It doesn't have to be overly complicated. A taut sheet can make for a perfectly functional screen and you can find a workable projector for about the price of a TV. Movie night doesn't have to mean that you're passing up a summer evening. With an outdoor movie theater, you can watch "Gone With the Wind" while enjoying the summer breeze.
Add a water feature
On hot days, the sound and feel of water can be just the thing to cool down your outdoor space. A water feature can be as simple as a birdbath or as complicated as a fountain with water flowing down an artificial waterfall. If you really want to challenge yourself, add a koi pond. The fish will delight your guests, and the addition of a pond will turn your outdoor space into less of a yard and more of a full-on garden.

Do you have any tips on how to best use outdoor space? We want to hear from you! Get in touch with us anytime, or connect with us on Twitter and Facebook.
Tags: garden care, homeowner advice, landscaping