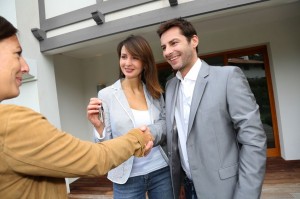 Talking with a Phoenix mortgage lender without being educated on industry terms can be intimidating, and at times can make you feel like your lender is speaking a foreign language. With such an important financial decision, having a clear understanding of some of the key technical jargon your likely to hear while shopping around for the right Phoenix home loan will help empower you with the knowledge you need to make an informed choice.
Here are some key terms and loan types along with their definitions to help you decipher the jargon and clarify how it applies to you.
Conforming Loans and Non-Conforming Loans
A conforming loan is a mortgage loan that conforms to GSE guidelines and meets the funding criteria of Freddie Mac and Fannie Mae. Guidelines on the maximum loan amount are updated each year. The current conforming loan limit for Maricopa County is set at $417,000. Lenders prefer to work with conforming loans because non-conforming (jumbo loans) are much riskier. Typically, to offset that risk, lenders will charge a higher amount of interest for non-conforming loans than they do with conforming ones.
Sub-Prime Mortgage Loan
A subprime mortgage loan is a type of mortgage that may be offered to borrowers with low credit ratings. These types of loans are characterized by higher interest rates and less favorable terms in order to compensate for higher credit risk. It is often useful for people with shaky credit history to wait for a period of time to build up their scores before applying for a loan to avoid this type of mortgage.
FHA Loan
An FHA (Federal Housing Administration) loan is one that has been provided by an FHA-approved lender and insured by the federal government. These types of loans are designed to make home ownership a possibility for low to moderate-income borrowers who are unable to make a large down payment. FHA loans require less stringent credit qualifications and allow the purchaser to borrow up to 97% of the value of the home. The 3% down payment requirement can come from a gift or a grant, which makes FHA loans popular with first-time buyers. The current loan limit on FHA loans for a single family home in Maricopa County is set at $346,250.
VA Loan
A VA (Veterans Administration) loan is available to Veterans who served on active duty and have a discharge other than dishonorable after a minimum of 90 days of service during wartime or a minimum of 181 continuous days during peacetime.
The VA will guarantee a maximum of 25% of a home loan amount up to $104,250.00, which limits the maximum loan amount to $417,000.00. In general, the reasonable value of the property or purchase price, whichever is less, plus the funding fee, may be borrowed. All veterans must qualify. They are not automatically eligible for the program.
USDA Loan
A USDA Loan is another federally backed loan for low to very-low income borrowers in rural areas across the United States. This type of loan requires no down payment and has more lenient credit requirements. Though this type of loan is not available in Phoenix, it is offered in other towns in Arizona such as Buckeye. The average household income limit for a USDA home loan in the state of Arizona is $73,600.
Adjustable Rate Mortgage (ARM) and Fixed Rate Mortgage
A fixed rate mortgage maintains the same interest rate throughout the life of the loan which is typically a 15-year or 30-year term. An adjustable rate mortgage may begin with a lower interest rate, but will then adjust periodically, usually in relation to an index, and payments may fluctuate slightly up or down accordingly.
Mortgage Insurance
This is an insurance policy that protects the mortgage lender or title holder against default by the borrower. Homeowners will typically be required to pay mortgage insurance if they are putting less than 20% down on their home purchase. However, once the loan-to-value ratio is at 80% (meaning you have 20% equity in your home) you can request that the insurance policy be canceled.
Closing Costs
Closing costs include all expenses that are due at the settlement table over and above the price of the property. This includes loan origination fees, discount points, appraisal fees, title searches, title insurance, surveys, taxes, deed-recording fees and more. Be sure to discuss the closing costs with your Phoenix lender when you are shopping for your loan.
Now that you have some of these more basic mortgage terms and loan types explained, you can feel more confident in your search for the right Phoenix mortgage. If you are interested in speaking with one of our Phoenix mortgage lenders or are interested in getting more information about the loans we offer, simply fill out our Fast Response form or give us a call in our local branch office located in Scottsdale at (480) 751-3400. Our experienced mortgage professionals would love to sit down and discuss your needs. We look forward to serving you!
Tags: first option lending, first option mortgage, first time home buyer, First Time Home Buyer Phoenix, home mortgage, mortgage broker, mortgage education, Mortgage Lender Phoenix, mortgage lending, Phoenix Lending, Phoenix Mortgage